Do you know what Fastoplayer is?
Fastoplayer is an adware program, which means that the application enters your computer just to generate profit for its developers. Whatever function it might be bragging about, it is not worth your attention. Everything is just a scam devised to trick you into thinking that Fastoplayer is a useful browser add-on, and thus you must have it. What you really must do, however, is remove Fastoplayer from your browser because in the long run it would not be surprising if this application was exploited by malevolent third parties. In other words, you have to do it to protect your computer from harm.
This program affects only the Firefox browser, as it is a Firefox add-on. It does not have an official website, so users do not download it directly. The most common method of distribution for such programs is software packaging. It means that Fastoplayer comes bundled with adware and malware programs that users download from file-sharing websites, or the downloading is initiated automatically when users click on corrupted pop-ups. In other words, Fastoplayer might be the least of your concern, and if you decide to delete this application (which you should definitely do), you must also detect other potential threats this add-on arrived with.
If one could call it like that, the good thing about this browser add-on is that it does not try to hide its presence like most of the genuine computer infections. You will know quite soon that you have a new extension on your browser because Fastoplayer will start showing coupon offers and other random pop-ups. The pop-ups may open new pages associated with online advertising. For instance, the pop-up domains used by Fastoplayer include wealthinaweek.co, 30-day-change.com, cmn.com-notify.com, and so on. Most of the pop-ups offer you to make a lot of money in a short period of time while others try to push you into purchasing some goods for a, supposedly, lower price.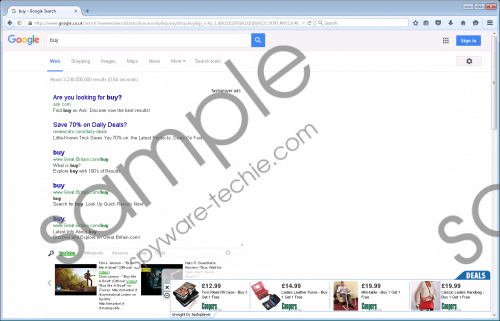 Fastoplayer screenshot
Scroll down for full removal instructions
At the first glance, this type of behavior seems to be more annoying than dangerous, but you should not underestimate this extension. Sure enough, Fastoplayer does not intend to infect you with malware because that is not why the program was created. However, seeing how the extension employs third-party advertising networks to promote different content, you have to consider the possibility that the add-on might also be exploited by cyber criminals. As long as they know how to embed their content into the pop-ups, Fastoplayer could be a rather useful promotional tool.
Therefore, to protect your information and your computer from potential exploitation, you must remove Fastoplayer right now. Follow the instructions below to get rid of the extension. It is not a difficult task to complete because all you have to do is delete the extension from your browser.
Nevertheless, that is definitely not the end of it. As mentioned, Fastoplayer must have entered your PC in a software package, so it is strongly recommended that you run a full system scan with the SpyHunter free scanner and delete all the additional unnecessary programs. Should you run into any difficulties while trying to safeguard your system, please do not hesitate to ask for help by leaving us a comment.
How to Remove Fastoplayer
Open the Firefox browser.
Press Alt+T and click Add-ons.
Disable and remove unwanted add-ons from Extensions.
Restart your browser for the changes to take effect.
In non-techie terms:
Fastoplayer is a potentially dangerous program that is added to your browser as an extension. The application collects information on what websites you visit and then spams you with annoying pop-ups all over the place. You will do yourself a favor if you remove Fastoplayer right now and then acquire a powerful antispyware tool. Please do not forget that adware programs usually travel in groups. The thing is that with this add-on on your browser, there is a possibility that you have a lot more programs to remove.