Do you know what Fast-Player is?
Instead of providing beneficial and reliable services, Fast-Player displays suspicious ads, which is why our research team recognizes it as an advertisement-supported program. This program was built using the Injekt engine, just like its predecessors, Record Page, Glass Bottle, and On Stage. Even though these programs have obvious differences, they are very similar if you are looking at the technical side. Luckily, these programs are not very complicated, which means that removing them should not create difficulties either. Should you remove Fast-Player? We believe that you should, and you can learn more about this process by reading this report.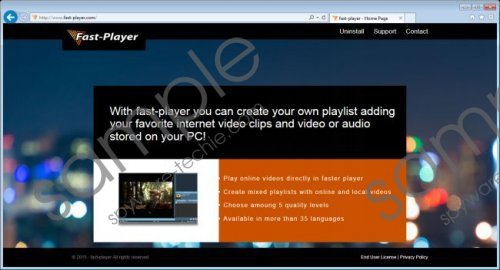 Fast-Player screenshot
Scroll down for full removal instructions
Have you stumbled upon fast-player.com? This website is very strange, considering that it promotes Fast-Player, but does not offer an installer. This site explains how to remove this program and how it works, but it does not tell you how to install it. Well, Fast-Player does not actually need any site to enter your PC! This program clings to other programs that are grouped in the same software bundle. If the party responsible for this bundle is unreliable, it is possible that this adware will be packaged with malicious, or, at least, unreliable programs. Removing these programs is important as well. We will talk about the removal of these third-party programs later, and right now we want to focus on deleting Fast-Player. After all, this harmless-looking program can act in a truly suspicious manner.
Fast-Player can collect information about your virtual activity to help the associated advertisers target you with more attractive deals, offers, and recommendations. It is very possible that some of these deals, offers, and recommendations will be misleading, which is why you have to think twice before you click on them. If you are not cautious, you could even be tricked into downloading useless or malicious software. So what are you going to do? Are you going to delete Fast-Player or are you going to ignore the risks related to it? We sure hope that you will get rid of this adware as soon as possible.
The two most popular techniques that users employ to remove Fast-Player are the manual and the automatic techniques. If you choose to delete Fast-Player manually, you have to follow the guide below. If you want to leave this important task in the "hands" of a reliable security tool, install it without further delay. Note that this tool can guarantee the removal of malicious programs if they attack your operating system as well, which we cannot say about the manual method. Should you decide to remove malware manually, make use of a reliable scanner to alleviate the process.
Remove Fast-Player from Windows
Remove from Windows XP:
Move to the left of the Taskbar and click Start.
Open the Control Panel menu.
Double-click Add or Remove Programs.
Remove the undesirable application.
Remove from Windows Vista or Windows 7:
Open the Start menu from the Taskbar.
Select Control Panel and move to Programs.
Click Uninstall a program.
Right-click the app you wish to delete and select Uninstall.
Remove from Windows 8 or Windows 8.1:
Simultaneously tap Win+R to launch RUN.
Enter Control Panel and click OK.
Under Programs select Uninstall a program.
Right-click the application you wish to delete and click Uninstall.
In non-techie terms:
Fast-Player may be fast, but it is fast at something you want to avoid: potentially unreliable advertising. Our manual removal guide will help you delete Fast-Player from your PC, but we also want to bring your attention to automated malware removal software that is irreplaceable when it comes to the removal of Fast-Player-related infections and the protection of your operating system. If you are not sure what you want to do, start a discussion below, and we will help you.