Do you know what Fashion Life is?
Fashion Life, also known as FashionLifeapp, is a program that provides links to third-party sites. Although the links provided by this Windows gadget route to various popular sites, including facebook.com and twitter.com, it also promotes less popular fashion blogs, web stores, and unfamiliar sites. If you are not careful about the links you click on, you could easily find yourself in a predicament, and this can be easily avoided by removing the suspicious program.In fact, we identify Fashion Life as an advertisement-supported program because it is capable of showcasing advertisements. Some users find this to be the most important reason to delete Fashion Life from their operating systems. Unfortunately, our research team has found another important reason to remove this adware.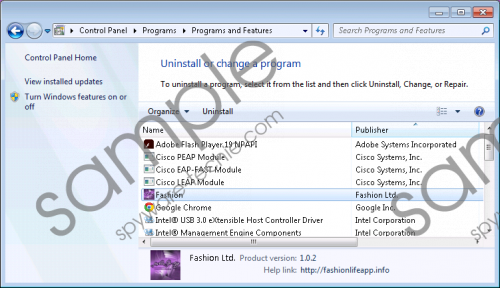 Fashion Life screenshot
Scroll down for full removal instructions
Did you know that Fashion Life can record personal information? This is what you would know if you analyzed the Privacy Policy at fashionlifeapp.info/privacy-policy.html. A statement in this document reveals that personal information can be shared with third-party advertisers, and, considering that these parties are kept in secret, we are very concerned. If you do not remove Fashion Life, personal information about you could be leaked to unknown parties, and it is possible that these parties will have malicious intentions. In the worst case, the login details of your personal accounts could be leaked to third parties that might use this information to hijack your accounts and use your virtual identity for virtual attacks and scams. Of course, it is unlikely that all computer users will face the same security issues, but the risk of facing them is what should push you towards the removal of Fashion Life. After all, this program does not offer beneficial services, and you will not lose anything by deleting it.
You can uninstall Fashion Life from your operating system to delete it. In most cases, this is enough to eliminate this unreliable, ad-supported program from Windows. If you want to be sure that all components were removed, or you want to find if your operating system is infected with other unreliable threats, you can install a scanner. If a scanner detects malware, delete it right away. Since manual removal, in most cases, is lengthy and complicated, we suggest employing an automated malware removal tool. This software should be installed on your PC to protect you from malware anyway, so it is high time you installed it. If you do not, you will have to guard your virtual security manually, and that is not easy to do.
Remove Fashion Life from Windows
Remove from Windows 10
Click the search box on the Taskbar and enter Change or remove a program.
Right-click the program you wish to delete from your PC and click Uninstall.
Remove from Windows 8.1, Windows 8, or Windows 7
Tap Win+R to launch RUN, enter Control Panel into the box, and click OK.
Navigate to Programs/Programs and Features and click Uninstall a program.
Right-click the application your wish to delete and select Uninstall.
Remove from Windows XP
Click the Start menu icon on the left of the Taskbar and open Control Panel.
Double-click Add or Remove Programs and go to Change or Remove Programs.
Select the unwanted program and click the Remove button.
In non-techie terms:
Do you identify Fashion Life as a harmless, beneficial program? Our research team disagrees with that. This ad-supported program is likely to show unpredictable ads and leak personal information, which is why you have to remove it as soon as possible. Luckily, the removal of Fashion Life is simple. What users might have trouble with is the removal of third-party infections that could travel bundled with this ad-supported program. Use a malware scanner to identify these infections and implement a trustworthy, automatic malware removal tool to eliminate them from your operating system.