Do you know what Fantasybulletin.net is?
If you open your browser and see Fantasybulletin.net in it, there is a good chance that a browser hijacker has crawled onto your computer. Although it is possible that you have installed this browser extension yourself, it still has the ability to make changes to your browsers, which is why it belongs to the browser hijacker category of malware. According to our researchers, this hijacker can affect the three major browsers, Google Chrome, Mozilla Firefox, and Internet Explorer. It does not seem to affect Microsoft Edge yet. Still, if you use any of these previous browsers, you will be exposed to this unreliable search engine whenever you launch them. If you did not authorize these browser changes, it is quite possible that this hijacker breached your privacy to do so. This is tantamount to losing control of your own browsers. Therefore, in order to restore the previous security state, we recommend that you remove Fantasybulletin.net from your computer as soon as possible.
Most people download browser hijackers in freeware bundles or click on the wrong third-party ad on a suspicious website, and that is how they get infected. Then, again, a lot of users let these changes take place by not unchecking certain checkboxes that are usually offered for them at one stage of the installation process of a free program or browser extension. It is possible that you would only know about the browser setting changes if you read the license agreement carefully. Most users skip this and hastily click on the "I accept" option just to get it all done quickly. The price they pay for this could be a whole bunch of malware infections running amok on their computers. But in this case our researchers could not confirm that this hijacker spreads in bundles. Not yet, at least, is what they say. This seems to be a relatively fresh infection, so right now it is mainly found as a standalone installer. But this does not mean that it will not be distributed in malicious bundles soon.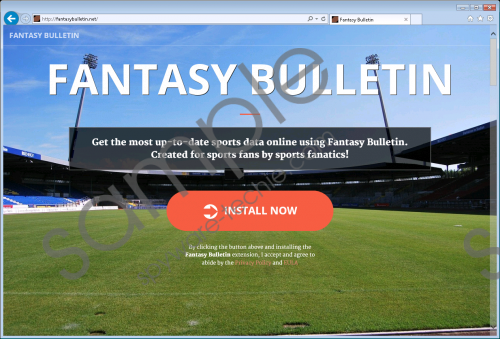 Fantasybulletin.net screenshot
Scroll down for full removal instructions
In order to prevent such malicious software packages from entering your computer, you should know that these are mainly promoted by freeware and torrent sites, not to mention pornographic sites. It is obvious that if you avoid these kinds of pages, you can protect your computer from a possible malware invasion. Of course, it is also important that you not click on any third-party ad on questionable sites. However, if your computer has already been infected with adware, it is possible that you get redirected to malicious websites even if you click on a legitimate advertisement on a reputable website. If you have visited such sites lately and you have noticed third-party ads or changes in your browsers, you should delete Fantasybulletin.net and, right after that, scan your system with a reliable malware scanner. If you do not eliminate all the potential threats from your computer, you can never feel secure while it is switched on.
The biggest problem with this tool is that it has the ability to manipulate the search results even if it redirects you to a legitimate-looking Yahoo! search results page. Although this browser extension offers you sports-related Twitter feed easy-access links on its main page, you should know that even those might lead to pages that host potentially harmful third-party ads injected by this hijacker. All in all, it is not safe to use this search engine or any of its services, and we advise you to always stick to a preferred and reputable search provider, such as Google, Bing, and Yahoo. If you do not want to end up on potentially harmful websites and become the victim of an online scam, losing your identity or money from your bank account, you should not hesitate to remove Fantasybulletin.net.
Although this browser hijacker has a working uninstaller, it does not work perfectly because it only takes care of the extension in Internet Explorer. That is why you need to manually get rid of both extensions in Google Chrome and Mozilla Firefox as well. Another important thing you can do to help protect you computer is always keep all your programs up-to-date. Even if you use antimalware software to safeguard your PC, it is essential that you refresh its definitions, preferably every day or automatically, in order to keep up with the new threats that hit the web endlessly.
Fantasybulletin.net Removal from Windows
Windows 8/Windows 8.1/Windows 10
Press Win+X and choose Programs and Features.
Click on the application and press Uninstall.
Windows Vista/Windows 7
Press the Windows button on the Taskbar and pick Control Panel.
Select Uninstall a program.
Click on the application and press Uninstall.
Windows XP
Press the Start button and open Control Panel.
Pick Add or Remove Programs.
Click on the application and press Remove.
Fantasybulletin.net Removal from Browsers
Mozilla Firefox
Press Alt+T and select Add-ons.
Choose Extensions on the left.
Click on the extension and click Remove.
Google Chrome
Press Alt+F and select Settings.
Pick Extensions on the left.
Click on the extension and click on the trash can icon.
Click Remove in the pop-up.
In non-techie terms:
Fantasybulletin.net is a useless browser extension that has been classified as a browser hijacker. You cannot trust this tool because it may promote third parties through advertisements and sponsored links, which can be displayed through altered search results or even the Twitter feed pages whose quick links it shows on the main page. If you do not want to be exposed to potentially harmful websites or advertisements, you should remove Fantasybulletin.net. In order to make sure there are no other threats on board, we suggest that you download and install a trustworthy malware removal tool.