Do you know what Fake AdwareCleaner is?
Fake AdwareCleaner is the evil twin of a popular antimalware program you probably already know of, Adware Cleaner. Remove Fake AdwareCleaner as it is a rogue program that supposedly scans your computer for malware and then stars showing fake detections and warnings regularly. The more dangerous thing than the fake information about your system status is an offer to register Fake AdwareCleaner so that your computer would be cleansed. Accepting to buy the full version might result in a loss of money, or even data theft.
Like many other rogue programs, Fake AdwareCleaner masquerades as a legitimate anti-spyware program (in this case, AdwareCleaner) and pretends to scan your computer. After the scan is completed, it displays a large list of especially alarming malware infections that were supposedly found on your PC. Unlike this rogue anti-spyware, the legitimate AdwareCleaner would never provide you with a list of fake infections, in order words, trustworthy programs never lie to their users about the status of their computers. Also, after Fake AdwareCleaner completes the phony system scan, it suggests purchasing the full version, but here is the trick: After you have entered all the credit card information, you might never get the promised update. What is worse, you will have willingly given up your bank data to unknown entities. Thus, it is simple; remove Fake AdwareCleaner if you do not want your money stolen. Sometimes malicious rogue anti-spyware even blocks the Internet access or disables all the security tools present on computers. Fake AdwareCleaner has not been known to demonstrate this kind of behavior; however, its annoying insistence that your system is infected and the ability to autostart with Windows might also be strong reasons to delete Fake AdwareCleaner.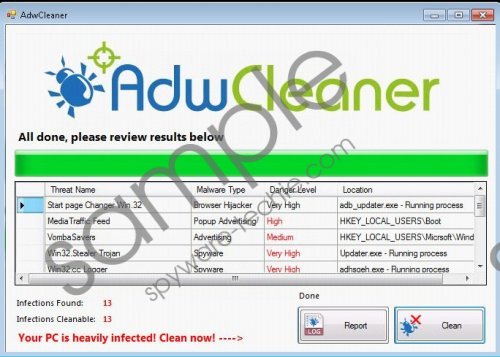 Fake AdwareCleaner screenshot
Scroll down for full removal instructions
While legitimate software is distributed via trusted channels, Fake AdwareCleaner might utilize different nefarious ways to enter your system: via vulnerabilities in your operating system and applications (web browsers, Flash Player, PDF reader, etc.), through defective anti-malware defenses (or the lack thereof), via the sponsored links on Internet search results, and through unknown websites. As you see, Fake AdwareCleaner spreads through all the channels other malicious software does, therefore, there is a strong motive to delete the program from your PC. You might also install it accidentally with freeware and shareware programs you might find on suspicious sites (e.g., torrent client from the pirate sites). Therefore, it is of the utmost importance to be attentive during the installation process. If you installed unwanted malicious software nevertheless, follow our guidelines to remove it immediately.
Rogue antimalware programs like Fake AdwareCleaner usually display aggressive and intrusive behavior; therefore, this program is something you will want to remove without any delay. The things can get slightly complicated because it is impossible to terminate Fake AdwareCleaner the usual way, which is from Control Panel. Do not be startled, though, we have provided clear guidelines below which will help you to deactivate Fake AdwareCleaner. Keep in mind that the surest way to guarantee that your computer is secure from rogue programs or any other type of malware is to have a real anti-spyware program; therefore, it is recommended to invest in security tools created by trusted developers.
How to Delete Fake AdwareCleaner
Windows 8 and 8.1
Press the Windows logo key + R to use the Run command.
Type C:\Users\User\AppData\Local.
Find Fake AdwareCleaner.
Remove Fake AdwareCleaner (SAdwCleaner.exe).
Windows 7 and Vista
Press the Windows logo key + R to use the Run command.
Enter C:\Users\User\AppData\Local.
Locate Fake AdwareCleaner.
To terminate Fake AdwareCleaner, delete SAdwCleaner.exe to terminate.
Windows XP
Click the Start button.
Choose All Programs.
Click Accessories, choose Run.
Enter C:\Users\User\AppData\Local in the Open box.
Find Fake AdwareCleaner.
Delete SAdwCleaner.exe to deactivate Fake AdwareCleaner.
In non-techie terms:
Fake AdwareCleaner is a rogue antimalware program which aims at stealing your money. It will try to trick you into believing that your system is full of infections, suggesting you to clean it up for a fee. However, keep in mind that it is a scam. Remove Fake AdwareCleaner and install a real malware removal program to keep your computer protected.