Do you know what Fact Fire is?
Fact Fire is an adware application developed by SuperWeb LLC. Consequently, it belongs to the SuperWeb family of adware programs that present various security issues to unsuspecting computer users. It is another clone of SourceApp, Reverse Page, Malt Mark, and other programs from the same group. Adware programs are barely useful and they significantly slow down your web browser, so your best option in this case would be removing Fact Fire from the system immediately, as you can never know what this little affair can result in. Adware apps should not be trusted.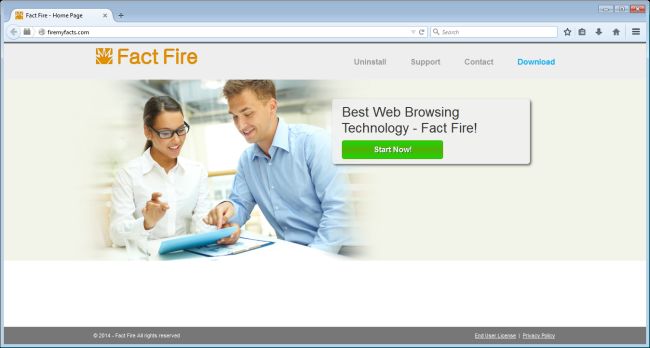 Fact Fire screenshot
Scroll down for full removal instructions
We can access the official website for Fact Fire via firemyfacts.com. The website uses the same template like any other site for the program from the SuperWeb group. We can recognize that bright green download button immediately. Unfortunately, the button does not work. It is not possible to download Fact Fire directly, which brings us to the next step in trying to prove that this program is suspicious.
The only other way for Fact Fire to get to your computer is bundled downloads. In other words, Fact Fire comes in software packages that you can download from third-party file sharing websites. This also means that users install adware on their computers themselves. The problem is that they often do not realize that Fact Fire and other similar adware apps INFORM them about the oncoming installation, but users often do not pay attention to what the installation steps have to say. As a result, Fact Fire and other similar apps enter your system.
After installation, Fact Fire gets added as an extension to the Internet Explorer and Mozilla Firefox web browsers. If you use Google Chrome and it is not updated, Fact Fire will be added to it too. The application then begins collecting data on your web browsing habits, so it could display customized ads, pop-ups, deals and coupon offers. These commercial offers are displays on popular online stores, such as eBay, Amazon, BestBuy, and others. You are strongly recommended to ignore Fact Fire ads because there is no guarantee they lead to safe web pages.
In the most extreme cases, Fact Fire could be exploited by malevolent third parties to promote their corrupted content. The app is not responsible for the security of third-party content, so you might get infected with malware as well. That is why, it is important that you remove Fact Fire immediately.
Luckily, it is easy to uninstall Fact Fire through Control Panel, but you have to remember that there might be more unwanted programs, so you have to take care of that too. If you have troubling finding potential threats, scan your computer with a licensed antispyware tool. Also, do not hesitate to leave us a comment if you have any questions.
How to remove Fact Fire
Windows 8
Drag mouse cursor to the bottom right of your screen.
When Charm bar appears click Settings and go to Control Panel.
Open Uninstall a program and remove Fact Fire.
Windows Vista & Windows 7
Open Start menu and click Control Panel.
Go to Uninstall a program and remove Fact Fire.
Windows XP
Click Start button and navigate to Control panel.
Select Add or remove programs and uninstall Fact Fire.
In non-techie terms:
Fact Fire is a program that you accidentally install on your PC. It is responsible for displaying these annoying pop-ups whenever you access an online store. You need to remove Fact Fire from your PC because prolonged exposure to third-party content could result in a data theft or malware infection.