Do you know what Fabsyscrypto Ransomware is?
Fabsyscrypto Ransomware is yet another infection that was created to encrypt your personal files. According to our research, this threat was written in .Net framework, and that means that it can be decompiled. It works on both 32-bit and 64-bit processors, and it is compatible with all Windows operating system starting with Windows XP. It appears that this ransomware was created using the HiddenTear open-source code. Hidden-Peach Ransomware, PayDay Ransomware, and Hollycrypt Ransomware are few of many threats that belong to this group of malware. If you want to learn more about them, as well as how to delete them, look up reports that were created by our malware researchers. This report, of course, discusses the removal of Fabsyscrypto Ransomware. Although your files will not be automatically restored once you eliminate this threat, it is important to get rid of it as soon as possible. Please continue reading to learn all about this.
It is most likely that Fabsyscrypto Ransomware has slithered into your operating system via a spam email attachment that you might have believed to be a harmless file. If that is the case, you should have no trouble locating and identifying the malicious .exe file. Of course, other methods of distribution could be employed as well, in which case, it might be more difficult to find the launcher. In any case, it is unlikely that you will notice the threat upon its infiltration, which means that it can start malicious processes without your notice. According to the information we have gathered while analyzing this threat, it can encrypt files with such extensions as .txt, .doc, .docx, .ppt, .jpg, .png, .php, .html, or .xml. RSA-2048 and AES-128 ciphers are employed for the encryption, and once they are applied, you cannot open your files. Also, it is worth mentioning that Fabsyscrypto Ransomware specifically encrypts files in directories that have these strings in their names: AppData, Application Data, Boot, PerfLogs, ProgramData, Program Files (X86), Program Files, Recovery, $Recycle.Bin, System Volume Information, temp, tmp, Windows, and winnt. Once you discover the ransomware, you need to check these folders to see if your personal files were encrypted.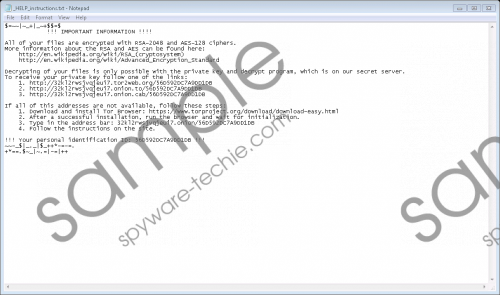 Fabsyscrypto Ransomware screenshot
Scroll down for full removal instructions
Fabsyscrypto Ransomware creates a file called "_HELP_instructions.txt", and it is meant to introduce you to the demands. The information within the TXT file informs that you can retrieve a decryptor (also known as "private key") by visiting one of the listed websites and following the introductions represented via them. As you might have found out yourself, you are asked to pay money – a ransom – in return of a decryption key. Should you pay the price that is asked of you? That is something you have to make up your mind about yourself, but we have to warn you that the creator of this ransomware is unpredictable, and it is possible that you will be left empty-handed once you pay the ransom.
It is not difficult to delete Fabsyscrypto Ransomware if you know where the malicious file is. All you have to do is kill the process linked to this file and then delete the file itself. If you cannot do that manually, install a trustworthy anti-malware tool that will automatically detect and erase malicious components. Considering that other dangerous threats might be active on your PC or could attack your operating system in the future, we strongly recommend employing anti-malware software right away. If you have questions regarding the threat or its removal, post them in the comments box below.
Remove Fabsyscrypto Ransomware
Launch Task Manager by tapping Ctrl+Shift+Esc keys on the keyboard.
Click the Processes tab to find all running processes.
Select the malicious process (might be hard to identify), click it, and choose End task/process.
Locate the malicious .exe file associated with the process.
Right-click the file and choose Delete.
Also, Delete the ransom note file called _HELP_instructions.txt (remember that it has multiple copies).
Finally, Empty Recycle Bin and install a trustworthy malware scanner to examine your operating system.
In non-techie terms:
There is no doubt that you need to delete Fabsyscrypto Ransomware, and we are sure that you do not need convincing to do that. Unfortunately, if this infection has managed to encrypt highly important and valuable files, you might be focusing on the decryption key that allegedly can unlock all your files. Of course, the price for this key is likely to be quite big, and, more important, no one knows if cyber criminals would keep their promises to provide you with it. Whatever you choose to do, do not forget to remove Fabsyscrypto Ransomware because this threat is very dangerous, and you do not want it running on your PC for any longer.