Do you know what F1ash-p1ayer.us Pop-up is?
F1ash-p1ayer.us is an infamous advertising domain which presents a fictitious, misleading web page mimicking get.adobe.com/flashplayer. The authentic web page is meant to promote the Adobe Flash Player; however, the fictitious source simply uses a familiar page to push a completely fictitious tool. If you fall for the scam, you could end up installing advertisement supported programs, potentially undesirable programs, viruses and malicious infections. Ignoring the pop-up is not a good idea either. You should delete F1ash-p1ayer.us Pop-up related adware because unless you do that the misleading pop-ups will keep appearing and offering you unreliable updates, installers and services.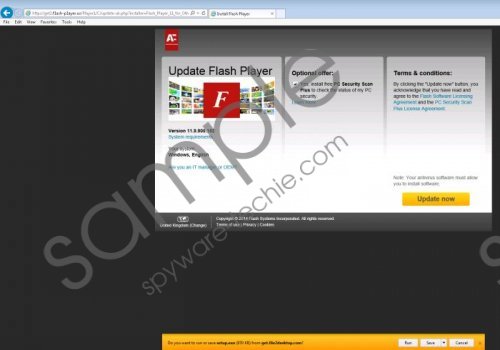 F1ash-p1ayer.us Pop-up screenshot
Scroll down for full removal instructions
This Content Requires Media Player 12.7 Ads and Update the latest Java version Ads are very similar to F1ash-p1ayer.us Pop-ups. They could be presented by the installed adware and they could promote fake offers, which is why clicking on them is not recommended. If you do end up clicking on F1ash-p1ayer.us Pop-up in the hopes of installing the FLV Player, you will be informed that you need to install or update your flash player before installing the program. You should ignore both of these products because they are used to trick you into running a corrupted installer. If you are not careful, together with the bogus FLV Player you could acquire ConstaSurf, Conduit Search, RR Savings, Expiro Virus, and other undesirable and even dangerous applications. Unfortunately, the removal of these programs can be extremely difficult.
To remove F1ash-p1ayer.us Pop-ups you need to hunt down and delete the advertisement supported software related to them. If you are not experienced with adware and you do not know how to locate or delete it, we suggest installing automatic malware removal software. If you are looking for a legitimate, powerful remover, we can recommend SpyHunter. This tool is up-to-date, can delete dangerous threats, and can help you safeguard the operating system in the future. Some undesirable programs related to the F1ash-p1ayer.us Pop-up can be removed manually as well. Use the guides below to get rid of these programs.
Delete undesirable programs from the PC
Delete from Windows XP:
Move to the left of the Task Bar and click Start (button with Windows logo).
Open the Control Panel for Windows utilities and double-click Add or Remove Programs.
Select the unwanted program and click the Remove button to get rid of it.
Delete from Windows Vista/Windows 7:
Click the Start menu button on the Task Bar and select Control Panel.
Click Uninstall a program and right-click the application you wish to remove.
Choose to Uninstall the unwanted program and repeat the process with other undesirable apps.
Delete from Windows 8:
Tap the Windows key on the keyboard to access the Metro UI menu.
Right-click on the screen and select All apps to open the Apps menu.
Now click Control Panel and move to Uninstall a program.
Right-click the application you wish to remove and select Uninstall.
In non-techie terms:
You should not trust F1ash-p1ayer.us Pop-up offerings because they are highly misleading. The pop-up may lead you to a website mimicking a legitimate Adobe Flash download page, and this is done to trick computer users into running a clandestine bundled software installer. If you do not want to find your operating system beleaguered with adware, PUPs and malware, we suggest that you ignore the installer and immediately delete the adware which is likely to be running on the PC and producing fictitious pop-ups.