Do you know what EZDownloader is?
EZDownloader is a desktop application which can help you manage download tasks. The download manager is available on its official websites and is known to be adware-free. However, there is another source which provides the application along with adware and other free programs. Hence, EZDownloader is regarded as a potentially unwanted program.
The official website of EZDownloader is ezdownloadpro.info, whereas the installer which promotes a bunch of other programs is available at lp.ezdownloadpro.info/juice_b/index2.php?q=. If you are going to install a new download manager or any other free program, do not forget to read the terms of use or the license agreement in order to prevent unwanted programs. If you have already installed EZDownloader and its additional programs, take action to remove them from the PC.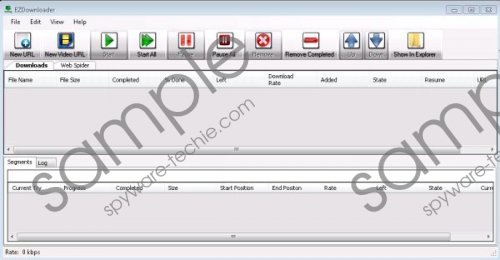 EZDownloader screenshot
Scroll down for full removal instructions
EZDownloader is bundled with GreatSaver, a browser add-on which provides the user with search-related coupons and advertisements; a system optimizer called PC Optimizer Pro; a browser add-on called SNT, and a browser hijacker websearch.toolksearchbook.info.
As to the browser hijacker, the user is not informed about the changes that will be made immediately after the installation. Websearch.toolksearchbook.info is set as the home page of the browsers; moreover, it becomes the default search provider of your browsing tools. Instead of your favorite start-up page, you have to deal with websearch.toolksearchbook.info, which also generates a new advertisement every time you refresh the home page. Take action to remove it from the browsers, because it monitors your browsing behavior and provides you with dubious search hits on the search engine results page. The very fact that the changes on the browser are made without your permission means that your privacy is violated, so do not let that vicious browser hijacker manipulate you.
If you are concerned about the pop-ups of Optimizer Pro, you should bear in mind that this application only consumes system resources. Even when you activate it, that is, pay a particular sum of money to acquire the full version of the program, little changes are likely to be made on the system.
As to the adware programs that are installed alongside EZDownloader, we recommend that you remove them from the PC. GreatSaver monitors your search terms, clicks, and other actions on the internet in order to provide you with relevant coupons, special deals, and advertisements. It is not liable for the content of the advertisements and the websites to which you are taken by all those pop-ups, so if you want to protect yourself on the Internet, remove it from the PC right now.
The following instructions should help you uninstall the unwanted application, but we recommend that you rely on a powerful spyware removal. If you do not have a powerful application, it is time to get one. Do not wait – take action right now if you want to get rid of the annoying hijacker, adware programs, and the potentially unwanted program.
How to remove EZDownloader and other programs
Windows Vista and Windows 7
Click Start - > Control Panel.
Select Uninstall a program.
Remove the unwanted application.
Windows XP
Open the Start menu - > Control Panel.
Select Add or Remove Programs.
Uninstall the unwanted programs.
Windows 8
Move the mouse cursor to the lower-right corner of the screen.
Right-click and select Control Panel.
Click Uninstall a program and remove the unwanted programs.
How to reset browsers
Internet Explorer
Open Alt+T and click Internet Options.
Open the Advanced tab and click Reset.
Check the box and click Reset.
Click Close.
Mozilla Firefox
Press Alt+H and click Troubleshooting Information.
Select Reset Firefox - > Reset Firefox.
Click Finish.
Google Chrome
Press Alt+F and select Settings.
Under On startup, select the third option and click Set pages.
Set a new startup page.
Under Search, click Manage search engines and select a new search provider.
In non-techie terms:
EZDownloader is a free download manager which is bundled with various free applications, some of which are categorized as adware and potentially unwanted programs. The adware-free application is available at ezdownloadpro.info, but you should always pay attention to the information provided by the installer. If the installation of EZDownloader ends up with a bunch of unwanted program on your PC, take action to remove them.
Aliases: EZ Downloader.