Do you know what ExstraCoupon is?
ExstraCoupon is an application which many believe to be helpful; however, you should not expect much from it. Malware researchers who have analyzed the application have revealed that it runs as an advertisement-supported program. This means that the developers of the app work hand in hand with online advertisers. Unfortunately, this kind of relationship often has nothing to do with reliable, beneficial services. Due to this, most choose to delete ExstraCoupon from the affected browsers. Note that the application installs on active Chrome, Firefox and IE browsers simultaneously. This means that if the program has been installed on one browser, you may need to remove it from others as well.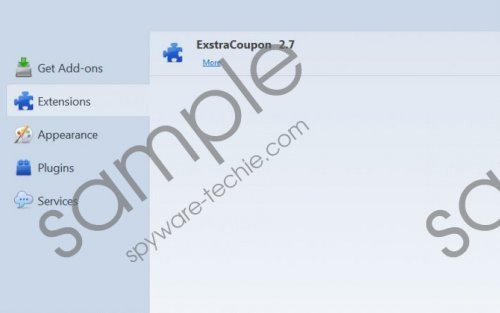 ExstraCoupon screenshot
Scroll down for full removal instructions
It has been revealed that ExstraCoupon has been designed using the justplugit, and this puts the app in the same family as SaveNShop, Deal2Dealit, AdBlockNWatch, and plenty of other suspicious adware. All of the applications within this family are known for using multiple different versions of the original title. Note that you may need to remove ExsTrACaoUPon, EaXstraaCoeuupoN, ExsetraCoupon, and programs with similar names, and they indicate the existence of the same adware. Needless to say, these random name modifications are not supposed to confuse computer users; however, automatic malware removal software may fail to delete ExstraCoupon due to this. Needless to say, if you used reliable, up-to-date malware removers, you would not need to worry about the existence of adware or the associated infections. These may be installed alongside the adware if it is represented by Amonetize, Vittalia or installrex bundled installers. This is the most likely distribution method since extracoupon.info does not provide a working installer.
It is because ExstraCoupon presents the advertisements of unreliable parties, connects to the web without authorization, and enters the PC together with suspicious software, malware researchers recommend that you delete it as soon as possible. You can remove ExstraCoupon from the PC manually; however, automatic malware removal software is much more beneficial in situations where additional threats or PUPs exist. Considering that authentic software can ensure complete system's protection, and so you should not hesitate about the installation of this software for much longer.
Delete ExstraCoupon from Windows
Delete from Windows XP:
Click the Start icon on the Task Bar to open a menu with more options.
Select Control Panel and immediately double-click Add or Remove Programs.
Find the undesirable program, select it and click Remove.
Delete from Windows Vista & Windows 7:
Click the Windows/Start icon on the Task Bar and select Control Panel.
Move to Uninstall a program to find the installed applications.
Right-click the program you wish to remove from the PC and select Uninstall.
Delete from Windows 8:
Right-click on the Metro UI menu screen and select All apps.
Now open the Control Panel and move to Uninstall a program.
Finally right-click the application you wish to delete and choose Uninstall.
In non-techie terms:
It is best to perform ExstraCoupon removal right away because even though this application is not highly malicious, the data-tracking cookies related to it are quite intrusive, and the associated advertisements may be quite misleading. Automatic malware removal software will delete adware and any additional threats from the PC in no time; however, if you choose the manual removal, you need to be very careful. Note that the instructions provided above are just the first step.