Do you know what Expressfind.net is?
If you find Expressfind.net as your new home page when you launch your browser, you should know that your computer has been attacked by a browser hijacker. These malware infections breach your privacy, which is an illegal act; therefore, it should not be a question what to do with Expressfind.net. However, this is just the tip of the iceberg; the list of potential security issues goes on as you dive deeper into the dark lake of suspicions surrounding this infection. If you do not understand what you are up against, you cannot fight this threat; what's more, you may simply leave it on-board. And that would really be a mistake. You should remove Expressfind.net as soon as possible because it may present you with unsafe web content.
The most possible way for this malware to appear on your machine is to arrive in a free software bundle. These infections are mostly spread this way. It does not mean, of course, that all freeware bundles are bad and to be avoided. But the truth is that more and more infected bundles emerge on the web every day, so you need to be careful if you do not want to cause harm to your computer. Most importantly, you need to stay away from unfamiliar and suspicious file-sharing websites and torrent sites as well. These pages are mainly to blame for the spreading of malware.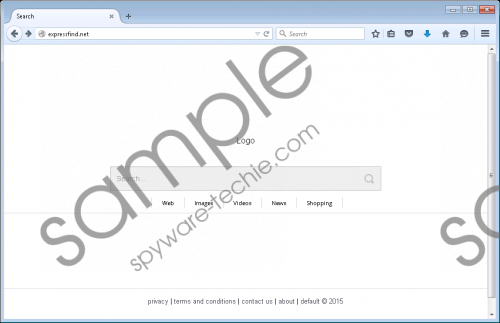 Expressfind.net screenshot
Scroll down for full removal instructions
What is also important to note is that you can actually stop these threats from being installed if you are careful enough and read all steps of the installation wizard. Usually you are offered checkboxes to opt out, but they may only be revealed if you go for the Custom option. Unticking the designated checkboxes is the only way at this stage to prevent infections from starting their ugly businesses. If you miss this chance, you will have to delete Expressfind.net and all the other infections as well in order to secure your PC.
At first sight, this search engine is a bit simplistic and the missing logo picture does not help the overall image either. But the worst about this useless tool is that it may alter the search results and display you a search results page that may contain targeted third-party ads or sponsored links. It is rather questionable which third-party ads you can actually trust and which may take you to malicious websites. If you do not want to experience the latter, we advise you to delete Expressfind.net as soon as possible.
It is not too complicated to make this infection disappear. You can simply restore the default home page settings in your browsers or you can set a new one. That way you can eliminate Expressfind.net. If you do not know how to do that, please use our guide below this article. However, if you want to make sure that no threat endangers the operation of your computer, you should think about downloading and installing a reputable antimalware application. Otherwise, you need to be more careful about the websites you choose to visit and the ads you click on.
Expressfind.net Removal
Mozilla Firefox
Tap Alt+T and open Options.
In the left panel, select General.
Click Restore to Default or edit the home page URL.
Internet Explorer
Tap Alt+T and select Internet options.
Click on the General tab and click Use default or overwrite the home page URL.
Press OK.
Google Chrome
Tap Alt+F and select Settings.
Click Open a specific page or set of pages under On Startup.
Click Set pages.
Edit the home page URL and press OK.
In non-techie terms:
Expressfind.net is a browser hijacker that sets itself as your new home page in your browsers without your knowledge. Since it may also enter your computer with a bunch of other malware infections, you may have to face multiple system security issues. If you hesitate to act, you may put your operating system in danger. That is why we advise you to remove Expressfind.net and take care of every other infection.