Do you know what Explorednow.com is?
Explorednow.com is a potentially dangerous search engine that is part of a browser hijacker infection. You might have been infected with this program when you downloaded a number of potentially harmful applications. Needless to say, you have to remove Explorednow.com from your computer as soon as possible; otherwise, it would not be surprising if you got infected with malware eventually. Browser hijackers are often exploited for malware distribution, so you need to do everything in your power to protect your PC from harm. For any further assistance, do not hesitate to contact us by leaving a comment.
This browser hijacker affects Google Chrome, Mozilla Firefox, and Internet Explorer. If you get infected with this program, the next time you open your browser, you will find Explorednow.com set as your default homepage and search engine. This kind of modification is definitely disturbing, but users just keep the search engine on their browsers, thinking it must be some official change. What's more, Explorednow.com may even look like a genuine search provider, keeping in mind all the specific tabs that you can find below the search box. In a sense, the program is very good at making the unsuspecting users think it is the real deal.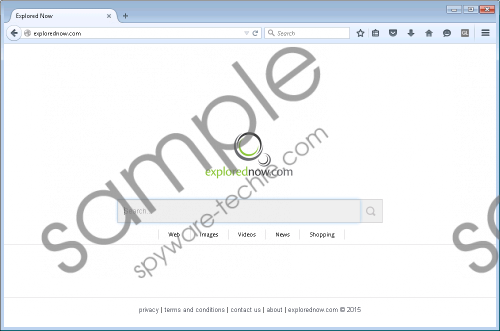 Explorednow.com screenshot
Scroll down for full removal instructions
However, you should be smarter than that and get rid of Explorednow.com at once. There is no way this application will help you with the web search. Sure enough, the search engine will run a web search, but the results cannot be trusted. Browser hijackers often display customized search results that are tailored based on your web browsing habits. Thus, Explorednow.com will show you what you want to see, and that is definitely not an objective representation of search results. What's more, there is a good chance that some of those search results will be embedded with outgoing links to commercial websites, and not all commercial websites can be trusted.
There is another thing you should be wary of if you have Explorednow.com install on your PC. The fact that this browser hijacker managed to arrive at your system implies that there are more potentially dangerous programs on-board. Our security researchers suggest that the browser hijacker often comes bundled with freeware. That is only logical because this program is not distributed individually via an official source, as there is none. Thus, it means that you installed many other programs on your PC along with Explorednow.com.
When you remove Explorednow.com from your computer, you have to make sure that you get rid of other unwanted applications as well. While it is possible to terminate this browser hijacker just by resetting your browser, the other programs usually have to be removed via Control Panel. In some cases, you may encounter programs that do not have an entry in the list of installed programs.
If that happens, you must get yourself a licensed antispyware tool and delete the potential threats automatically. Some users may be reluctant to rely on a third-party application to ensure their computer's security, but that is your best bet when it comes to avoiding serious computer security issues. With a licensed antispyware program installed on your PC, you will no longer have to worry about the likes of Explorednow.com.
How to Remove Explorednow.com
Internet Explorer
Press Alt+T and click Internet options.
Open the Advanced tab and click Reset.
Mark Delete personal settings and click Reset.
Press Close.
Mozilla Firefox
Press Alt+H and click Troubleshooting information.
When the new tab opens, click Refresh Firefox.
Click Refresh Firefox again and press Finish.
Google Chrome
Press Alt+F and go to Settings.
Click Show advanced settings at the bottom.
Scroll down and press the Reset Settings button.
Click Reset.
In non-techie terms:
Explorednow.com looks like a search engine that can help you search the web for reliable and relevant information. Nevertheless, we are forced to categorize this program as a browser hijacker. This means that the application changes your browser settings without your permission and exposes you to potentially malicious content. If you do not remove Explorednow.com immediately, you will soon have to deal with an entire bunch of potential computer security threats.