Do you know what EverydayLookup Toolbar is?
EverydayLookup Toolbar is a browser extension that is classified as adware. This means that this program may collect information on your web browsing habits, and then later on make use of that data to expose you to commercial third-party content. The toolbar itself is not a malicious infection, but there are particular security issues associated with it, so if you care about your system's security you will remove EverydayLookup Toolbar at once. It is not complicated to delete this extension on your own, although it would always be a good idea to invest in a computer security tool of your choice.
If you do not know how EverydayLookup Toolbar was installed on your computer, it is very likely that you installed this application accidentally with a list of other potentially unnecessary programs. Freeware applications often travel bundled in packs. Users download them from file-sharing websites when they are looking for particular applications. They may not know what other additional programs are included in the package, but the point is that you need to be really careful whenever you download programs from third-party websites. It is very likely that third-party installers will carry more than just one program in them, and, as a result, the likes of EverydayLookup Toolbar will be able to enter your system.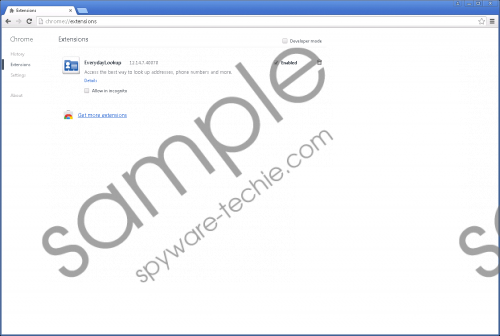 EverydayLookup Toolbar screenshot
Scroll down for full removal instructions
What's more, it is also possible to download the application from everydaylookup.com. This is the official website for this toolbar, and it should not come as a surprise because all applications from this group have homepages. EverydayLookup Toolbar belongs to the MindSpark family of suspicious browser extensions that often cause various security issues. The program is similar to FindMeFreebies Toolbar, EmailFanatic Toolbar, VideoConvert Toolbar, and so on. We are not trying to say that these MindSpark toolbars are dangerous computer security threats. The problem is that EverydayLookup Toolbar and any other application from the group could be easily exploited by cyber criminals because they have loose security policies.
On top of that, EverydayLookup Toolbar could prove to be quite intrusive, especially if you install all the additional features. The application is compatible with Google Chrome, Mozilla Firefox, and Internet Explorer. Also, the full version of the setup comes with the Ask Search engine. The original search services were discontinued by Ask back in 2011, but the search engine is still there, available for third-party use, and if your homepage gets changed to ask.com, there is a good chance that eventually you could get redirected to unfamiliar and potentially harmful websites.
We would not be talking about this if you were the one who installed this application willingly. But if EverydayLookup Toolbar arrived unexpectedly in a software bundle, then it is more than obvious that you have to get rid of this application and everything related to it. The sooner you remove EverydayLookup Toolbar from your computer, the better.
Please follow the manual removal instructions below to delete this application. Take note that manual removal may not be enough to terminate all the potential threats. Hence, you have to get yourself a legitimate antispyware tool and get rid of other uninvited guests automatically. Do all it takes to protect your PC from harm.
How to Delete EverydayLookup Toolbar
Windows 10
Right-click the Windows icon and select Control Panel.
Go to Uninstall a program and remove EverydayLookup Toolbar.
Windows 8 & Windows 8.1
Slide the mouse cursor to the lower right corner of your desktop.
Click Settings on the Charm bar and select Control Panel.
Open Uninstall a program and remove EverydayLookup Toolbar.
Windows Vista & Windows 7
Open the Start menu and go to Control Panel.
Click Uninstall a program and remove EverydayLookup Toolbar.
Windows XP
Click the Start menu button and go to Control Panel.
Access Add or remove programs and uninstall EverydayLookup Toolbar.
Change Your Browser Settings
Internet Explorer
Press Alt+T and click Internet options.
Change your homepage address under the General tab and click OK.
Press Alt+T again and click Manage add-ons.
Press Search providers on the left.
Choose a new default search engine, remove Ask Search and click Close.
Mozilla Firefox
Press Alt+T and go to Options.
Change your homepage address under the General tab.
Click Search on the left menu pane.
Choose a new default search engine, and remove Ask.com from the list.
Press Ctrl+Shift+A and the Add-ons manager tab will open.
Disable and remove EverydayLookup from Extensions.
Restart your browser.
Google Chrome
Press Alt+F and go to More tools.
Access Extensions and remove EverydayLookup.
Click Settings on the left.
Mark Open a specific page or set of pages under On Startup.
Click Set pages and change your startup page. Click OK.
Select Manage search engines under Search.
Set a new default search engine, delete Ask Search and press Done.
In non-techie terms:
EverydayLookup Toolbar may have entered your computer when you downloaded some unfamiliar program from a file-sharing website. This toolbar will take over your browser, as it can change your default homepage. You will have to remove EverydayLookup Toolbar if you want to avoid potential security threats. Please take your time to get rid of all the potential threats that might cause you trouble in the future. For any further questions, do not hesitate to contact us by leaving a comment below.