Do you know what Eternity Ransomware is?
Eternity Ransomware is a malicious piece of software that should never be active on your personal computer. If unfortunately, it is already running on your PC, make no mistake and conduct its complete removal right away. It is paramount to do so because this devious application can easily encrypt a large number of your files, without any notification or authorization. It is not hard to understand that having this malicious program could lead to devastating outcomes. In the majority of cases users infect their PC with this ransomware because they lack knowledge regarding virtual security; thus, in our article, we provide a few tips that will help you maintain a fully secure operating system at all times. Also, we include detailed information about the inner workings of this malware. Finally, you will also find an in-depth removal guide that you should use to delete Eternity Ransomware once and for all.
It is important to note that Eternity Ransomware has been crafted as an application for educational purposes. According to its developers, it should be used for research exclusively. Unfortunately, cyber crooks have been able to get their hands on this open-source application and exploit it in the most negative way possible. Not surprisingly they use it to make illegal profits from unsuspecting Internet users. The basic functionality of this ransomware program does not differ from other applications of this classification. Once it gains access to your operating system, it immediately starts the encryption procedure, which is silent meaning that most users are not able to detect and delete this devious program before it can do any harm. Upon further analysis, our malware experts have discovered that this suspicious program does not function in the way it should. As it turns out, it only encrypts data located in a folder called Test, which this malware creates itself. Such functionality signifies that this ransomware is still in its developmental stages. While that it is great news, you should know that if this devious program starts working in the way it should, you might have to face devastating outcomes. Despite the poor the functionality, this program still issues a ransom note, which informs you that your data is locked and that you need to make a payment in return for decryption services that you do not need. Under no circumstances abide by these demands. The only thing that you need to do is conduct a complete removal of Eternity Ransomware as soon as possible. To do that without encountering any major problems, make use of the instructions below.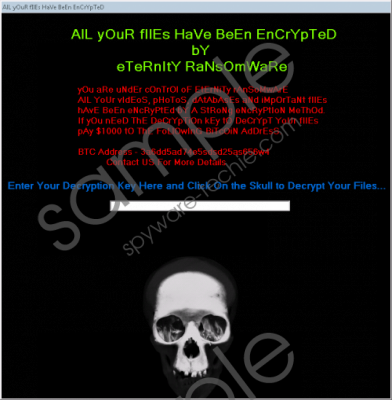 Eternity Ransomware screenshot
Scroll down for full removal instructions
Since the popularity of ransomware applications does not seem to slow down, it is paramount to have a fully secure operating system at all times. To improve your virtual security, you must take a few simple precautionary steps. First and foremost, we advise you to install a professional antimalware tool if you do not have one already. Such a tool is critical because it can identify and delete any virtual security threats before it can harm files stored on your hard drive. Alongside such a tool, we highly advise you to practice safe browsing habits at all times. Be sure not to download any email attachments that come your way from unknown third-parties because it could prove to be a part of spam email campaign, which malware developers use for distribution purposes. Also, you need to avoid all unauthorized download sites because they are infamous for hosting bundled installers, which are often filled with dubious and even dangerous applications. Last, but not least, make sure to learn as much as you can about any program before acquiring it since cyber crooks often use misleading marketing techniques to lure naive users into downloading and installing their suspicious program. These seemingly simple precautionary steps will make your operating system virtually unbreakable.
It should be more than obvious that you need to remove Eternity Ransomware at the very same instance that it is found running on your PC. Delaying the termination procedure could lead to further virtual security problems. It is crucial to delete every single bit associated with this malware to stop its devious functionality altogether. You should also know that leftovers of Eternity Ransomware could be used to restore it without your knowledge. If you wish to be sure that the termination procedure has been successful, make sure to recheck your operating system for anything linked to this malware as soon as you are done with the removal guide below. This way you will be sure that the termination has been successful.
How to remove Eternity Ransomware from your PC
Open your File Explorer.
Go to C:\Users\[your username]\Downloads.
Right-click a malicious .exe file and then select Delete. Note that the name of this files is random.
Go to C:\Users\[your username]\AppData\Local\Temp.
Right-click a malicious .exe file and then select Delete. Note that the name of this files is random.
Close your File Explorer.
Right-click your Recycle Bin and select the Empty Recycle Bin option.
In non-techie terms:
Malware experts at Spyware-Techie.com are well aware that some users might find manual removal a bit too complicated. Due to that, we provide an alternative removal guide below. By following these detailed instructions you will be able to delete Eternity Ransomware in a fully automated manner.