Do you know what ESpeedDownload is?
ESpeedDownload allegedly works as a download manager; however, we classify it as a potentially unwanted program because it was found to promote a suspicious search provider and modify Chrome settings in an intrusive manner. Although this extension is represented via the New Tab, the settings are modified to set New Tab to open on startup, and that is unexpected. The search provider it promotes is called searchalgo.com, and it was found to perform redirecting to search.yahoo.com. Although this kind of activity might seem harmless to some, we can assure you that it should not be ignored. As a matter of fact, the suspicious modification of your browser is one of the main reasons to delete ESpeedDownload from Chrome and Windows. If you are not convinced that you should eliminate this program, you need to continue reading this report.
Users usually acquire ESpeedDownload in two different ways. They install it from the official website, espeedcheck.com, or it is introduced to them via third-party installers. If you download this potentially unwanted program from espeedcheck.com/extensions.php?cid=5049, you are rerouted to the Chrome web store, which makes the process look more trustworthy. As you install the program, you are introduced to a few permissions. The first permission ensures that your data on the sites you visit can be read and modified, which should raise a red flag for you. The "Permissions" notification does not mention that the startup settings would be modified as well, which makes this PUP completely unreliable. There is no information about the introduction of searchalgo.com either. Speaking of this search tool, do you think it is trustworthy? Well, it might show sponsored results, which is why we do not recommend trusting it at all. If you end up using it, be very careful.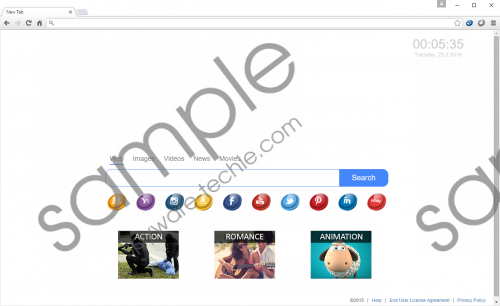 ESpeedDownload screenshot
Scroll down for full removal instructions
ESpeedDownload is not the only program that promotes suspicious search tools or modifies the Chrome browser. This potentially unwanted program was created by the same people who created eSpeedCheck, eSpeedMovie, eSpeedGames, and other strange, often unpredictable Chrome extensions, all of which are promoted at espeedcheck.com. In some cases, these Chrome extensions come bundled together, and, if that happens, we recommend that you eliminate all of them. Of course, if you acquire any of these programs using a malicious installer, it is likely that you will encounter malicious computer threats, and, needless to say, you must delete them ASAP. Unfortunately, many users install this PUP using the services of malicious installers without even knowing it; therefore, even if you think that other unreliable programs have not invaded your PC, you should run a malware scanner.
The removal of ESpeedDownload is not very complicated; however, you might face obstacles when eliminating other malicious infections. If you find other threats, it is best to employ an automated malware detection and removal tool to have all malicious, unreliable programs erased simultaneously. If you want to get rid of unwanted programs one by one, first use a malware scanner to identify them, and, if critical threats exist, make sure you delete them first. The PUP itself can be eliminated by removing the files associated with it, or you can use the guide below. Once you are over that hurdle, figure out how you want to go about your virtual protection. Obviously, your operating system is not secure because unreliable programs have managed to slither in, and, if you do not want this happening again, you should employ reliable security software.
Delete ESpeedDownload
Launch Chrome and tap Alt+F.
Select More tools for more options and click Extensions.
Click the recycle bin next to the unwanted extension (ID: afnjbmobicacmenkaoeflopokijejlma).
Select Remove.
In the menu on the left click Settings.
Navigate to the On Startup menu and mark Open a specific page or set of pages.
Click Set pages and enter the URL of the desired startup page. Click OK.
Restart the browser.
In non-techie terms:
Although ESpeedDownload seems to offer great services, it is just a potentially unwanted program that can modify Chrome settings and introduce you to a strange search tool. Unfortunately, this suspicious extension is often spread using software bundles, and it could be installed along with much more unreliable programs. If these programs have been installed, we advise implementing anti-malware software to erase them. If they do not exist, you might be able to clean your operating system and browsers manually. In either case, protecting your operating system is extremely important, and we advise making use of reliable security software. See the instructions below? Use them if you find that your operating system has been paralyzed by existing malware.