Do you know what Enter Voyage is?
Enter Voyage is a new type of adware application from the Superweb family. This group encompasses a vast number of similar applications that have been bothering computer users worldwide for quite some time now. The program proves to be no different from Giant Galaxy, Razor Web, Information Vent, Polished Patters, and many other programs released previously in the year. It goes without saying that you must remove Enter Voyage at once; otherwise, you will soon be exposed to an entire variety of potential computer security threats that could reach you via pop-up ads.
The Superweb family adware is known for having similar website layout. They also have official websites that do not function properly. For instance, you can access the website for Enter Voyage entervoyage.com, but clicking the Start Now! button would not get you anywhere. Thus, just like all the other applications from this group, Enter Voyage clearly gets distributed in another manner. That method is called software bundling, and the program most probably comes with a series of other freeware applications. For instance, if you download a program from a third-party website that specializes in file hosting, there is a good chance that Enter Voyage (or any other adware application for that matter) will be part of that setup package.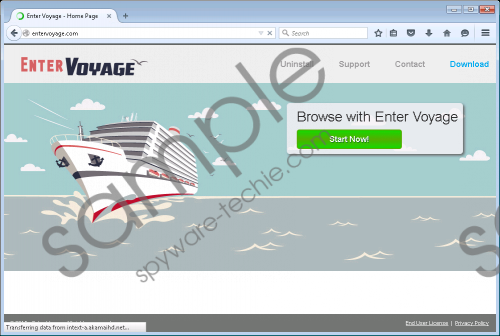 Enter Voyage screenshot
Scroll down for full removal instructions
Once this program is installed on your computer, it adds an extension to your browser. Enter Voyage is compatible with Internet Explorer and Firefox. It may also work on the older versions of Chrome, but the newest versions are known to block this extension on the security grounds. Perhaps this should be enough to convince you that Enter Voyage is up to no good, but if you need any more reasons, we are ready to present you with more. Take into consideration the fact that the program monitors your online activity, and so it can embed content that is related to your likes and preferences into its ads. As a result, the pop-ups that appear on your screen will look attractive, and you might feel inclined to click them.
Whatever you do, please refrain from clicking the Enter Voyage ads because there is no telling where they might redirect you to. Most of the time, it would be random commercial websites and other pages that focus on online marketing. However, in the worst-case scenario, you could be exposed to a dangerous website that distributes malware or steals personal information.
Why does that happen? This is possible because Enter Voyage is not responsible for whatever content is embedded into its ads. The program does not review the third-party content, and so it is a very useful tool for anyone who wants to promote their content and get away with it. Thus, although the application does not try to infect you with malware, it could do that one day, and you cannot risk it.
Open your Control Panel and remove Enter Voyage right now following the instructions below. Let us not forget other potential threats that could be running your PC right now. If you cannot find them in the list of installed programs, run a full system scan with the SpyHunter free scanner.
How to Remove Enter Voyage
Windows 10, Windows 8.1 & Windows 8
Press Win+R and the Run command prompt will open.
Type "control panel" into the Open box and click OK.
Go to Uninstall a program and remove Enter Voyage.
Windows Vista & Windows 7
Open the Start menu and click Control Panel.
Select Uninstall a program and remove Enter Voyage.
Windows XP
Click the Start menu button and navigate to Control Panel.
Open Add or remove programs and uninstall Enter Voyage.
In non-techie terms:
If you care about your computer's security, you will see to it that Enter Voyage is removed from your PC at once. This adware application usually just floods you with annoying commercial ads, but eventually it may also expose you to dangerous content that could result in a malware infection. Save your time and money by dealing with the problem in the first phases of the infection/distribution process. You will also do yourself a favor if you invest in a powerful antispyware program to protect your PC from similar issues.