Do you know what EnhanceTronic is?
You are not entirely right if you think that EnhanceTronic is a beneficial, trustworthy and useful browser plugin; however, you may be right if you believe this application to be mischievous and intrusive. Our malware researchers have discovered that this Chrome, Firefox and IE extension is an advertisement supported program which usually travels packaged with unreliable freeware and potentially undesirable programs. The application could be presented by third party download managers, which is why you need to keep an eye for additionally offered programs when installing any software onto the PC. We recommend having EnhanceTronic deleted from the computer if it has been infiltrated already. Needless to say, you should also discover and remove other unfamiliar and undesirable programs.
EnhanceTronic is infiltrated as a browser helper object on your Internet Explorer browsers, and so this should leave no more doubts that the program promoted at enhancetronic.net is intrusive. The browser helper object may enable virtual data tracking with the help of which the developers of the application and affiliate parties will be able to disclose certain information. For example, they could learn your IP address, record browsing history, and find out what advertisements you click on or how much time you spend on specific sites. Do you think that this plugin is authentic in that sense? Unfortunately, such data-tracking activities can be traced back to Grabrez, Surftastic, AdvanceMark, and other adware.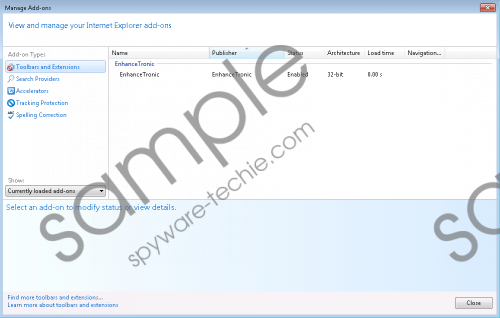 EnhanceTronic screenshot
Scroll down for full removal instructions
The displayed in-line and banner advertisements, the decreased Internet connection speeds and illicit software distribution are the symptoms related to EnhanceTronic. We strongly recommend getting this advertisement supported program deleted from the computer even if you have accepted to install it onto the browsers yourself. All in all, the disturbing application is usually distributed using clandestine software packaging methods, and so you should have no further questions why EnhanceTronic removal is so important. Delete adware with the assistance of authentic malware removal software or perform the manual removal steps presented below.
Remove the undesirable application from the PC
Remove from Windows XP:
Navigate to the Task Bar and click Start.
Click Control Panel and go to Add or Remove Programs.
Select the undesirable application and click Remove to delete it from the list.
Remove from Windows Vista or Windows 7:
Open the Start menu and click Control Panel.
Move to Uninstall a program and locate all undesirable applications.
Right-click the application you want to delete and select Uninstall.
Remove from Windows 8:
Right-click on the background of the Metro UI menu and select All apps.
Open the Control Panel and go straight to Uninstall a program.
Now right-click the application you want to remove and select the Uninstall button.
In non-techie terms:
EnhanceTronic is considered to be a disturbing, intrusive and undesirable browser extension which may enable virtual data tracking. Even though the program denies collecting personal, sensitive information, you should be more concerned about the data tracking abilities of the affiliate third parties. Note that malicious web cookies could be installed onto your browsers discreetly after you click on the online advertisements and deals supported by these third parties. We suggest that you install automatic malware removal software right way in order to delete EnhanceTronic and gain reliable PC protection.
Aliases: Enhance Tronic.