Do you know what EnhanceEmpire is?
EnhanceEmpire is an adware application that promises to enhance your web browsing experience. In all honesty, its only true function is to interrupt your browsing by trying to make you click on its various ads. This could quickly get really annoying. Our recommendation is to remove EnhanceEmpire once discovered on your computer.
As is apparent with a single look at its official website enhanceempire.info, this adware is made by SuperWeb LLC. This company is known to flood the Internet with various adware applications that promise seemingly useful functions but, in reality, only show ads. Our general recommendation upon discovering Super Web applications is to delete them from your computer. While they are not malicious by themselves, they sure are annoying to deal with. Removal is the best option.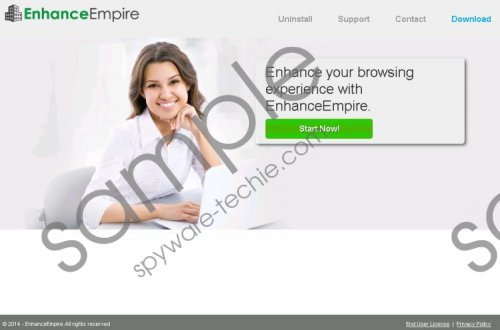 EnhanceEmpire screenshot
Scroll down for full removal instructions
Like most adware, EnhanceEmpire is distributed via freeware bundling. A minute of inattention while installing a freeware program costs the user time spent uninstalling all the programs that got on the system. It must be said, however, that additional programs are installed only with the user's permission, in most cases, it is nominal at best. When you're installing a free program you want and fail to uncheck boxes offering to install additional applications, it counts as you giving permission. To avoid this, always choose custom installation and make sure to uncheck any boxes offering to install programs you don't want. However, if you already have some unintended programs on your system, remove them at once.
Once EnhanceEmpire is on your computer, it works by gaining access to your browsing data and collecting information about websites you visit, links you click on and items you look for on shopping websites. It uses this information to provide you with targeted ads that redirect to third-party websites once clicked. Every advertisement you click translates into a minuscule amount of money for SuperWeb LLC. You do not get anything in return. This doesn't seem fair to us, so we recommend immediate EnhanceEmpire removal.
The best way to remove EnhanceEmpire from your system is to get a professional spyware removal tool that would scan your system and delete any programs that could possibly be classified as dodgy or malicious. The biggest advantage to this method is that the program will remove all threats at once and keep protecting your system in the future. You can also uninstall EnhanceEmpire yourself; however, this won't take care of any other programs that may have found their way on your computer without you intending them to. The instructions are provided below.
EnhanceEmpire Removal
Windows 8
Right-click the bottom-left corner of your Desktop and go to Control Panel.
Click Uninstall a program, select EnhanceEmpire, and click Uninstall.
Windows 7 and Windows Vista
Click the Windows button and go to Control Panel.
Click Uninstall a program, select EnhanceEmpire, and click Uninstall.
Windows XP
Click Start and go to Control Panel.
Click Add or Remove Programs, select EnhanceEmpire, and click Remove.
In non-techie terms:
EnhanceEmpire is an adware application made by SuperWeb LLC. It is distributed via freeware bundles. Once on your computer, it gains access to your browser and tracks your web browsing habits, trying to figure out what type of ads is most likely to be clicked. Once you click an ad, SuperWeb LLC gets paid and you get nothing for it. It's best to remove EnhanceEmpire from your system.