Do you know what Enhanced-search.com is?
If you discover that Enhanced-search.com or info.enhanced-search.com has replaced the regular home page on your web browsers, you can suspect the activity of a browser hijacker. Unfortunately, this is not a regular browser hijacker, and its removal is much more complicated. If you choose to delete Enhanced-search.com manually, it is possible that you will face this irritating hijacker regenerating again and again. This is because this malicious infection can modify the Target of the browsers. Do you know what this is, where to find it or how to modify it to your own preferences? Continue reading the report and soon enough your web browsers will be running securely again.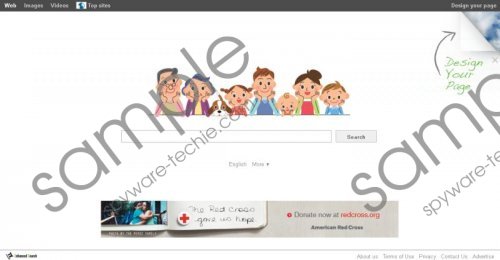 Enhanced-search.com screenshot
Scroll down for full removal instructions
Enhanced-search.com is a browser hijacker which comes from the same faction as Qone8, Sweet Page, Qvo6, NationZoom, Portaldosites and similar hijackers. Even though these infections act differently, their main traits are similar. First of all, these hijackers are camouflaged as authentic and reliable search tools. Secondly, they can enter your operating system illegally or using virtual scams. As our malware researchers have discovered, Enhanced-search.com can travel packaged with fictitious Java, Flash and media player downloaders or update installers. Furthermore, these browser hijackers are often related to unreliable third party advertisers. Ams1.ib.adnxs.com is an advertising domain which can serve you various pop-up and banner advertisements. In the case of the hijacker, these ads are displayed on the set home page – info.enhanced-search.com. We recommend ignoring the misleading banner offers at all times.
You need to remove Enhanced-search.com from the operating system, and in order to succeed quickly we recommend that you firstly install a reliable security tool and then follow the manual removal guides below. A legitimate security application will scan the operating system and will delete all malicious threats. After this, all you will need to do is change the undesirable search tools. We recommend that you follow the instructions below because they will help you restore the Target of the browsers. This is a key step, and if you do not complete it – the hijacker will continue corrupting the search tools. Do not hesitate to leave a comment below if you have more questions.
Remove Enhanced-search.com
Remove from Mozilla Firefox:
Right-click the Firefox shortcut to open an options menu.
Select Properties and click the Shortcut tab.
Under Target delete the text after firefox.exe" and click OK.
Launch the browser and locate the Firefox search box.
Click the search provider icon and select Manage Search Engines.
Remove the undesirable search provider and click OK.
Simultaneously tap Alt+T for the Tools menu and select Options.
Click the General tab, change/delete the Home Page URL and click OK.
Restart the browser.
Remove from Internet Explorer:
Find the affected IE browser shortcut and right-click it.
Select Properties, click the Shortcut tab and find the Target.
If there is additional text after iexplore.exe" – remove it and click OK.
Launch the browser and simultaneously tap Alt+T.
In the Tools menu select Manage Add-ons.
Select a new and Remove the undesirable search provider.
Click Close and simultaneously tap Alt+T again.
Select Internet Options and click the General tab on the left.
Overwrite/delete the Home Page, click OK and restart IE.
Remove from Google Chrome:
Right-click Chrome shortcut and select Properties.
Click the Shortcut tab and move to the Target.
Delete the text after chrome.exe" and click OK.
Launch the browser and simultaneously tap Alt+F.
Select Settings and move to On Startup.
Mark Open a specific page or set of pages and click Set pages.
Delete/change the displayed URL and click OK.
Move to Appearance and mark Show Home button.
Click Change and delete/overwrite the displayed URL. Click OK.
Move to Search and click the Manage search engine button.
Select a new and remove (click X) the undesirable search provider.
Click Done and restart the browser.
In non-techie terms:
Enhanced-search.com is a browser hijacker and you should remove it from the corrupted system without any delay. The infection can corrupt Firefox, IE and Chrome browsers using fictitious software installers, which is why you need to be careful with promoted offers and freeware downloaders. We recommend that you install authentic security software right away. It will help you keep the operating system secure in the future and will help you remove existing malware corrupting the PC at this very moment.