Do you know what EnforcerAide is?
EnforcerAide is an adware helper which usually assists the advertisement-supported programs built on the Justplugit engine. The undesirable application can be automatically installed with these programs without your permission, which is why it is not surprising that most users do not know about the existence of this threat. Unfortunately, if you do not delete EnforcerAide, it is likely that you will not be able to remove the undesirable programs associated with this adware helper. Why? According to the most recent research conducted in our internal lab, the program could help revive the programs that you remove from your operating system.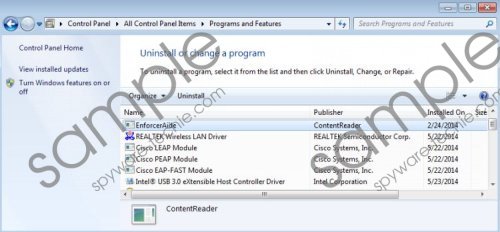 EnforcerAide screenshot
Scroll down for full removal instructions
If you do not remove EnforcerAide from your PC, it is likely that the removal of various advertisement-supported programs will be obstructed. As stated above, the adware helper is most likely to assists the programs created on the Justplugit engine, including OptiShopper, QuickShop, and Unideals. However, you can expect it to aid all programs installed on your PC via the installrex installers. So, have you found EnforcerAide installed on your operating system? If you have, you should immediately delete the program and follow this up with a thorough system scan. The scanner is likely to find adware, potentially unwanted programs, and maybe even malignant threats. Do not be surprised if the scanner identifies EnforcerAide as GrubTartan, DemiUpgrader, or FalconCentre. These are just few of the many alternative names that EnforcerAide is known by.
Have you made the decision to remove EnforcerAide from your operating system manually? According to our researchers, EnforcerAide is always installed to the %ProgramFiles(x86)%\DeltaFix directory, but it is unlikely that you will need to hunt and remove files one by one. The instructions posted below should help you remove the program from your operating system in a few simple steps. Is the removal of the associated adware and other programs just as straightforward? Unfortunately, it is not. Ad-supported programs created on the Justplugit engine usually leaves traces behind after users uninstall them. Needless to say, automatic malware removal software would not leave any traces behind, and so you should consider installing it to remove EnforcerAide and the associated threats.
Delete EnforcerAide from Windows
Delete from Windows XP
Click the Start menu icon on the Taskbar and select Control Panel.
Double-click Add or Remove Programs.
Move to Change or Remove Programs.
Select the undesirable application and choose Remove.
Delete from Windows Vista/Windows 7/Windows 8/Windows 8.1
Simultaneously tap keys Win+R to launch RUN.
Enter Control Panel into the dialog box and click OK.
Select Uninstall a program.
Right-click EnforcerAide (might use a different name) and choose Uninstall.
In non-techie terms:
The suspicious adware helper EnforcerAide does not deserve the space in your operating system. Our malware researchers suggest that you should remove EnforcerAide from your PC right away, and you can do that in two ways. You can choose the manual removal option, which is lengthy and risky, or you can install automatic malware removal software to clean your operating system for you. Use the removal guide below if you have discovered that the infections installed have already compromised your operating system.