Do you know what EmojiSearch is?
Though EmojiSearch does not look like a threat at first, it has been discovered that this potentially unwanted program works in a precarious manner. When you install it onto your Google Chrome web browser, it automatically modifies the default search provider. It is suggested that this is how you can search for emojis, but our research team has found that this feature is also used to redirect users to Yahoo Search where modified search results are shown to display sponsored content. Needless to say, you do not want to see unreliable search results, which is the first reason to remove EmojiSearch from your web browser. As mentioned already, this extension is compatible with the Google Chrome browser. It should also be compatible with the Mozilla Firefox browser, but, at the moment, the users of this browser cannot utilize it. That being said, the instructions below show how to delete the PUP from both browsers.
At the moment, you can download EmojiSearch from install.emoji-search.com/?pid=11111. This website represents the extension whose installer is hosted on chrome.google.com/webstore/detail/emoji-search/gdhcnelhibibnfghkebddpacmmnmbain. These sources do not offer a lot of information, but you can find the Privacy Policy represented via it. The statement at emoji-search.com/privacy.html informs that personal information can be recorded for the purpose of recommending relevant content and performing research. Although the recorded data might be protected reliably, you have to decide if the services offered by EmojiSearch are worth putting your privacy on the line for. You need to be especially cautious about this if you end up acquiring the suspicious PUP via third-party installers that might bundle the PUP along with other unreliable pieces of software. You have to install a malware scanner to inspect your operating system and determine whether or not you need to delete other threats.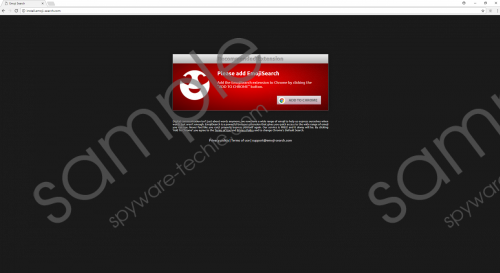 EmojiSearch screenshot
Scroll down for full removal instructions
EmojiSearch is similar to TVHero, SportsHero, GetEasyArcade, and many other potentially unwanted programs that can offer some beneficial services. For example, if you install this PUP, you will be able to find emojis on emojipedia.org directly from your address bar. All you need to do is type in "emoji," tap the "space" bar on the keyboard, and then enter the keyword of the emoji you want to find (e.g., "smile"). On the other hand, if you search the web from your default search provider, you could be shown useless results via Yahoo Search. First and foremost, it is illegal to redirect searches without the user's permission. Second, you do not want to interact with links that are unreliable. While the links shown by EmojiSearch could be harmless, they could also be unreliable or misleading, and that is what you need to pay attention to. It was found that the PUP modifies Yahoo Search results by redirecting via feed.emoji-search.com.
Should you delete EmojiSearch from your web browser? You need to make this decision yourself, but our research team suggests eliminating this potentially unwanted program because it appears that the risks outweigh the benefits. The instructions below show how to remove EmojiSearch from Google Chrome and Mozilla Firefox browser, and that should be enough to get rid of this potentially unwanted program from your system completely. Of course, if other threats exist, you cannot forget about them either. If you have no idea how to clean your entire operating system manually, consider employing anti-malware software that is created to identify and remove unreliable software automatically. If you desire to discuss the PUP further, do not hesitate to leave a comment below.
Remove EmojiSearch from browser
Google Chrome
Open the browser and enter chrome://extensions/ into the address bar at the top.
Click the recycle bin next to the unwanted extension and then select Remove.
Mozilla Firefox
Open the browser and enter about:addons into the address bar at the top.
In the Extensions menu click the Remove button next to the undesirable add-on.
In non-techie terms:
Users might be pushed into installing the EmojiSearch extension because it makes it easier to look up emojis using the default search provider that the PUP modifies upon installation. Unfortunately, it was found that the default search provider could also be used to showcase sponsored search results. Also, the PUP can record personal information. Due to these reasons, our research team recommends deleting EmojiSearch from the browser. At the moment, it is compatible only with Google Chrome, but it appears that it should work with Mozilla Firefox as well. You can use the guide above to learn how to eliminate the PUP from both of these browsers. You can also employ an anti-malware program to delete this PUP automatically, and this option is the best if you are also dealing with other unwanted programs.