Do you know what Elmers Glue Locker Ransomware is?
Has your access to your Windows operating system been denied by Elmers Glue Locker Ransomware? If it has, that means that this malicious infection is on the loose. At the time of research, its distribution was highly unlikely because of its inability to trick users into believing that their systems are paralyzed or even to accept the ransom payment that is demanded. How did this threat slither into your computer? Was it installed by another infection? Did you execute it yourself by accident? If the latter is the case, you should be able to recognize the launcher of this infection, and that is very important if you choose to delete Elmers Glue Locker Ransomware manually. This report was created to inform you about the activity and removal of this infection, and so if you are interested, keep reading.
As soon as Elmers Glue Locker Ransomware slithers in, it takes action. A screen-size notification shows up on the screen, and you are not allowed to close it like a regular window or pop-up. That is meant to trick you into thinking that your operating system was paralyzed, as well to force you to pay attention to the information represented via the message. According to this message, an infection called "Elmer's Glue Locker v1.0" has infected your operating system because you opened a corrupted file. It is suggested that if you want to remove Elmers Glue Locker Ransomware, you have to pay a ransom, which is 16 Bitcoins, to 14Vbyx3SCUvLKj3FWWefEVWAs4jJ9R2qqi (this is a Bitcoin Address). Normally, ransomware infections request sums that are doable, meaning that users might have a chance at paying them. It is unlikely that the victims of this particular infection will have enough money lying around to cover the ransom because it comes to around $39,000/€35,000. If you have that much money, invest it in property, not your computer.
The creator of Elmers Glue Locker Ransomware must be banking on the fact that so many ransomware infections are emerging every day. In most cases, these infections are capable of encrypting user's files and demanding a ransom in return of an alleged decryptor. One of the best examples of such malware is Wana Decrypt0r Ransomware. Although Elmers Glue Locker Ransomware does not say that your files are encrypted, you are expected to panic when you discover that your PC is "locked." It is never a good idea to panic when malware has invaded your PC because you might be tricked into believing things that do not exist. Just like with this ransomware, which does not actually paralyze your PC permanently. In fact, you can restart your computer or tap Alt+Tab keys to switch to your Desktop, and that is it. Of course, once you unlock the computer, you have to remove the infection.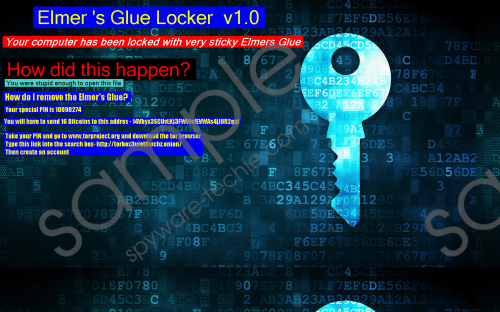 Elmers Glue Locker Ransomware screenshot
Scroll down for full removal instructions
Once you unlock your screen, you have to remove Elmers Glue Locker Ransomware launcher. As we discussed previously, you should be able to identify this file if you downloaded and executed it yourself. But what if you cannot find and recognize this file? In this case, you can either install a legitimate malware scanner or a legitimate anti-malware tool. The first one should help you detect the threat, and the latter one can both find and remove it automatically. Remember that by installing anti-malware software you not only ensure full elimination of existing threats but also the protection against those that could try to slither in in the future.
Delete Elmers Glue Locker Ransomware
Tap Alt+Tab keys and using the Tab key select Desktop.
Launch Task Manager (either via Task Bar or by tapping Ctrl+Shift+Esc).
Click the Processes tab to find all active processes.
Find the malicious process (the name is random) and click it once.
Click End task/process and then exit Task Manager.
Find the malicious .exe file that has executed the ransomware (the name is random).
Right-click this file and choose Delete.
Run a full system scan as you as you Empty Recycle Bin.
In non-techie terms:
The removal of Elmers Glue Locker Ransomware is not negotiable. Even though you can unblock your computer by killing one malicious process, you MUST eliminate the root of the problem, which, of course, is the malicious launcher. Another issue you are facing is the security of your operating system. Clearly, it is not protected reliably; otherwise, you would not be dealing with the ransomware right now. If you want to be 100% sure that your operating system remains malware-free in the future, installing anti-malware software is the way to go. If you want to delete the ransomware manually, go ahead, but do not ignore your system's vulnerability, and install trusted security software as soon as possible.