Do you know what EliteUnzip Toolbar is?
EliteUnzip Toolbar allows its users to compress and decompress files. This is all that the application offers its users; however, it is still quite popular. Most computer users are careful with the installation of new software, and such users do not have to worry about the removal of Ask Search tools. These search tools are installed together with the toolbar, but every user has the option to reject this offer. Of course, Ask.com is not the most unreliable search tool; however, you may already use a trustworthy search provider that does not require a replacement. If you want to delete EliteUnzip Toolbar-related search tools or remove the toolbar itself, you will find the necessary information within this report.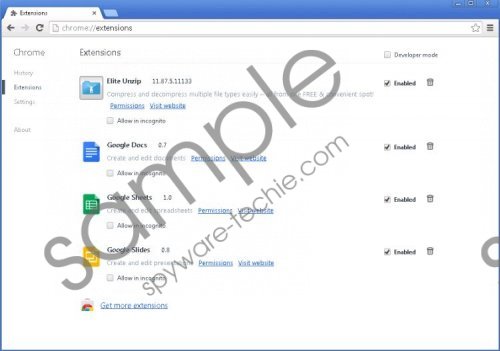 EliteUnzip Toolbar screenshot
Scroll down for full removal instructions
Eliteunzip.com is the official website promoting EliteUnzip Toolbar. The program offered on the site is distributed by Mindspark Interactive Network, and this company is the official distributor of such IE, Firefox, and Chrome browser extensions as DailyHomeGuide Toolbar and TranslationBuddy Toolbar. All of these toolbars, which you may also want to delete, are offered together with Ask Search. If you install EliteUnzip Toolbar together with the search tool, you will discover that the home page of your browser will be changed to home.tb.ask.com. This search engine presents links to facebook.com, twitter.com, pinterest.com, and other popular sites. Some of the presented search results may present sponsored links; other than this, the search tool is not dangerous. Nonetheless, you should remove EliteUnzip Toolbar-related search tools if you have installed them by accident.
We can help you with the removal of EliteUnzip Toolbar and the Ask Search tools. The manual removal guides below can be used by all Windows, Chrome, Internet Explorer, and Firefox users, because they are simple and straightforward. Of course, if EliteUnzip Toolbar has been installed with malware – and this is a possibility if you trust third-party software distributors – you should run an automatic malware remover. Install a legitimate malware removal tool that will delete EliteUnzip Toolbar and the rest of the suspicious or malicious programs.
Delete EliteUnzip Toolbar from Windows
Delete from Windows XP:
Move to the Taskbar, click Start, and select Control Panel.
Double-click Add or Remove Programs and Remove the unwanted application.
Delete from Windows Vista & Windows 7:
Click the Windows logo on the Taskbar, select Control Panel, and click Uninstall a program.
Right-click the application you wish to remove from your system and select Uninstall.
Delete from Windows 8:
Right-click on the Metro UI screen, click All apps, and open the Control Panel.
Click Uninstall a program and right-click the app you wish to remove. Select Uninstall.
Remove Ask Search
Remove from Google Chrome:
Open the browser, simultaneously tap Alt+F, and select Settings.
Under On Startup mark Open a specific page or set of pages and click Set pages.
Overwrite/delete the URL of the undesirable search tool and click OK.
Under Appearance mark Show Home button, click Change, and repeat step 3.
Under Search click Manage search engine and select a new default search tool.
Find the URL of the search tool you wish to delete, click X, and click Done.
Simultaneously tap Alt+F again, select Tools, and click Extensions.
Remove the undesirable extension by clicking the trash icon displayed beside it.
Remove from Mozilla Firefox:
Open the browser, simultaneously tap Alt+T, and click Options.
Click the General tab, overwrite/delete the Home Page URL, and click OK.
Move to the Firefox search box on the right and click the search provider icon.
Select Manage Search Engines and Remove the undesirable search provider.
Simultaneously tap Ctrl+Shift+A (Add-ons Manager) and click Extensions.
Remove the undesirable extension.
Remove from Internet Explorer:
Open the browser, simultaneously tap Alt+T, and click Manage Add-ons.
Move to the menu on the left and click Search Providers.
Select a new default search tool, Remove the undesirable option, and click Close.
Open the Tools menu (Alt+T) again and select Internet Options.
Click the General tab, change/delete the displayed Home Page URL, and click OK.
In non-techie terms:
You should not run unfamiliar or undesirable programs on your operating system. If you have downloaded EliteUnzip Toolbar together with the unwanted Ask Search tools, you may want to delete them from the browsers first. The manual guides above will help you perform the manual removal of EliteUnzip Toolbar in no time. If your operating system is infected with more dangerous threats, you should install automatic malware removal software ASAP.