Do you know what Elements Peruse is?
As elegant as it sounds Elements Peruse is nothing more than a worthless adware program. So you can image it has only one intention, which is targeting you with lots of commercial advertisements while you search the Internet. Most of the users grow tired of never ending pop-ups and search for help with the Elements Peruse removal. However, security specialists assure us that while using this program there are particular risks one should consider carefully. Therefore, we urge you to continue reading and learn more about this adware. Also, it is recommended to delete the application from your system, and that is why, you will find our prepared instructions at the end of this article.
Once Elements Peruse settles in your system, it creates folders in the %Program Files% and %TEMP% directories. Symphony Queen signs the data these folders contain. Our researchers have tried to find any information related to this publisher, but it seems like the name is fictitious since there is no available knowledge about it. However, it is possible the program is a clone of such adware as Wander Burst, Blazer Deals, On Stage; meaning that probably they were created by the same originators. Although these applications are very similar to the SuperWeb family adware, they are slightly different as this program uses the Injekt engine.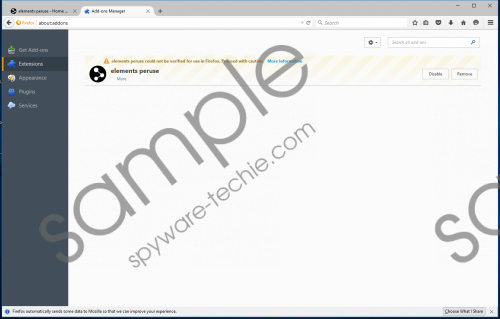 Elements Peruse screenshot
Scroll down for full removal instructions
Elements Peruse, as its previous clones, should spread through bundled software from malicious file-sharing websites. It is very likely that you were downloading one application but ended up with more than one, if you carelessly skipped through installation wizard's steps. So if you regularly download freeware and go with the automatic installation, it is possible there are even more unwanted programs on your computer. Therefore, it would be better to remove all of them at once because even one application left alone could download more software and do harm in process.
The most noticeable Elements Peruse activity would be regular ads showing up on your browsers. Although it is only compatible with the Internet Explorer and Mozilla Firefox browsers. So as you surf the Internet you will be targeted with annoying pop-ups that might show you even non-related ads to the site you are on. As you probably have already noticed, the ads offer you cheap deals on various services and products. Although you might not know it, these advertisements can redirect you to third party websites, which might be harmful to your computer. For example, you could receive a fake Windows OS notification about crucial updates that must be installed. As you click to authorize it, you would download malware instead, e.g. it could be nasty ransomware, which would encrypt your files and demand a ransom for decryption. We cannot be entirely sure that this particular scenario will happen to you, but there are other possibilities, and only you can decide if Elements Peruse is worth taking a risk.
Furthermore, you cannot see it, but this adware can collect information about you. For that reason, it uses DOM Storage, HTML Cookies, beacons and other tracking technologies. The collected information could be different based on the policy on privacy matters of the websites you enter. Even though Elements Peruse Privacy Policy statements claim that they do not gather personal or so-called identifiable data, they also do not deny that such information could be collected via third party websites and with the technologies they use. So if you do not like the idea of someone tracking you on the Internet, it would be best to delete this adware.
Removing Elements Peruse could be your first step in securing your computer. Fortunately, you can get rid of it via Control Panel, and there will be no junk files left behind. We understand that some of the users could be inexperienced in these matters, so we prepared detailed instructions of how to erase this adware. Also, you should consider using reliable antimalware products that would help you avoid various threats in the future.
Erase Elements Peruse via Control Panel
Windows 10 & Windows 8
Press Windows Key+R to launch the RUN.
Type Control Panel in the given box and press OK.
Select Uninstall a program.
Find Elements Peruse and click Uninstall.
Windows 7 & Windows Vista
Open Start menu and pick Control Panel.
Click on Uninstall a program.
Choose the application and click Uninstall.
Windows XP
Click on Start and select Control Panel.
Pick Add or Remove Programs.
Locate the unwanted application and select Uninstall.
In non-techie terms:
Elements Peruse is an adware application that will show you potentially harmful pop-ups on a daily basis. These sites that you could be redirected to might be unreliable and not safe to browse. So if you want to protect your computer, you should remove this application and any other program that seems suspicious, as you may have downloaded more unwanted programs over time. Therefore, it would be a good idea to clean your computer once in a while and remove unusable software or malware. You can scan your system with a legitimate security tool that will automatically get rid of all threats.