Do you know what El Equipo ha Sido Bloqueado virus is?
There are plenty of malicious infections out in the virtual world, but none of them are as aggressive and disruptive as El Equipo ha Sido Bloqueado virus. The ransomware comes with a very cunning interface and is managed alongside truly uncontrollable computer dysfunctions. All of this comes into affect right after cyber criminals, who have created the virus, find a security loophole and infiltrate malicious files into your operating Windows system. Once this happens, all you are left to do is remove El Equipo ha Sido Bloqueado virus, because this irritating application will remove your access to the desktop, block keyboard shortcuts and will display fictitious screen warning.
The fictitious notification (which you can see below) is not something completely new, because the same attack methods and notifications have been seen in tens of other Ukash viruses, like Federal Department of Justice and Police Virus, Internet Crime Complaint Center Virus and Korps Landelijke Politiediensten virus. In reality, the cunning El Equipo ha Sido Bloqueado virus is a threat to Windows users living in Spain only, but other Ukash name sharing infections are spread all over the world, from Canada and the U.S. to Iran and Australia. This is how cyber criminals can be more successful and generate more dishonest profit. As a matter of fact, getting your money is all that schemers want and you should be most careful with fake fine payment demands that will be presented alongside these fake accusations:
Descargue la grabación de vídeo o la transmisión de material pornográfico que involucre a menores, la pornografía infantil, un jardín, y la violencia contra los niños. El uso de productos piratas de audio y vídeo grabaciones y su distribución.
Even if the accusations do not seem unfounded, you should not waste any of your money, because no investigation has been organized and the Spanish law enforcement agencies are in no way linked to the virus. Therefore, ignore the screen locking alert and keep your money to yourself, or better yet invest it in automatic El Equipo ha Sido Bloqueado virus removal software, which could also protect your personal data and Windows security in the future. Overall, you should not hesitate to delete the infection right away, because the longer it lingers within the operating system – the more chances cyber crooks have to infiltrate more devious infections which could be much more difficult to remove. To delete the virus and protect your system, install SpyHunter using these instructions: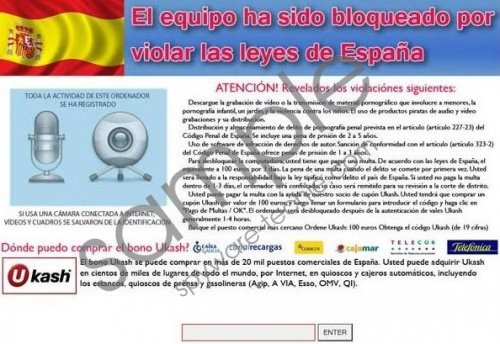 El Equipo ha Sido Bloqueado virus screenshot
Scroll down for full removal instructions
Windows 7/Vista:
1. Restart the PC.
2. Right after BIOS screen disappears, start tapping the F8 key. Wait for Windows Boot menu to appear.
3. Use arrow keys on the keyboard to choose Safe Mode with Networking. Hit Enter.
4. Launch a browser and go to http://www.spyware-techie.com/download-sph to download SpyHunter.
5. Install the automatic virus removal application and run its scan.
Windows XP:
1. Follow the steps 1-4 in the way it is instructed above. If you are prompted with a "Desktop" alert - click Yes.
2. Wait for the Windows to load and click on the Start menu.
3. Launch RUN and type "msconfig". Click OK.
4. Within newly appeared System Configuration Utility click on the Startup tab.
5. Uncheck all items or select Disable All and click Apply.
6. Restart the computer, install SpyHunter and let it remove El Equipo ha Sido Bloqueado virus.
In non-techie terms:
El Equipo ha Sido Bloqueado virus is a malicious Windows infection which has been designed to lock a computer and trick you into giving up your money. Regardless, you should delete the infection and invest your money into reliable virus removal tools rather than forward it on a fictitiously presented fine. To sum it up, do not comply with the ridiculous schemers' demands and remove the virus mercilessly.
Aliases: Bloqueado virus.