Do you know what Eight Ransomware is?
Eight Ransomware got its name from the extension (.eight) that it adds to all files that it encrypts. As usual, hackers programmed the threat to encrypt files to demand victims to pay ransom in exchange for decryption tools. While it is true that the only way to encrypt files affected by such malware is with unique decryption tools, we still not recommend putting up with the hackers' demands. That is because they might not keep up with their promise, in which case, your files could be lose whether you pay ransom or not. Of course, it is your decision. We only recommend reading our full article to learn more about the malware before you decide what to do. Also, our cybersecurity specialists advise erasing Eight Ransomware with a reliable antimalware tool or the removal guide available at the end of this text because it could be dangerous to let the threat stay on your system.
Many victims of threats like Eight Ransomware get tricked into launching them. For example, a targeted user could receive an email from cybercriminals pretending to represent some reputable company. The message could say that the user has to open a link, or a file to protect his account, learn something important, and so on. Thus, you should never interact with files or links if they arrive with a message that tries to tempt or scare you into opening something. We advise to inspect such messages carefully and then scan attached files with a reliable antimalware tool if you plan to launch them.
What's more, a lot of victims of threats like Eight Ransomware download them unknowingly too. Usually, from file-sharing sites or receive them while interacting with malicious ads or fake notifications. Therefore, to avoid such malware it is also important to keep away from questionable websites and not to interact with data if you are not certain that it is safe to do so. Plus, to make it easier to recognize suspicious content on the Internet, it is recommendable not only to have a reputable antimalware tool, but also keep your browser as well as your operating system up to date.
Our researchers say that Eight Ransomware ought to create files that are mentioned in our removal guide available below this article after it enters a system. Next the threat should start encrypting files that could be important to a victim, for example, it could encrypt photos, different types of documents, archives, videos, and data alike. After encryption, all files should be marked with an extension made from a specific email, a unique user ID, and the .eight extension, for example, .id[1I9E098I-2116].[use_harrd@protonmail.com].eight.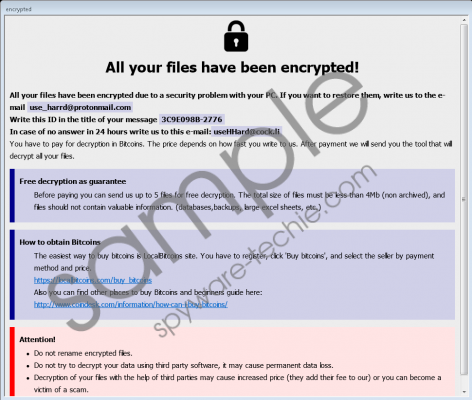 Eight Ransomware screenshot
Scroll down for full removal instructions
Finally, Eight Ransomware should show a ransom note that may ask to contact the malware's creators to learn how to pay ransom. In exchange for putting up with their demands, they ought to promise to deliver tools that could decrypt all the malicious application's affected files. They may also offer to decrypt a file free of charge, which can only prove that the hackers have the promised tools, but not that they will deliver them. Again, we wish to stress that dealing with hackers might be risky and could end up hazardously. The safest way to get your files back is to replace them with backup copies.
Whatever you decide to do we advise deleting Eight Ransomware because it might be dangerous to leave it on your system. The removal guide below shows how to erase it manually, but if the task seems too challenging do not hesitate to use a reliable antimalware tool instead.
Delete Eight Ransomware
Restart the computer in Safe Mode with Networking.
Press Windows Key+E.
Navigate to these paths:
%USERPROFILE%\Desktop
%USERPROFILE%\Downloads
%TEMP%
Find the malware's launcher (suspicious recently downloaded file), right-click it and select Delete.
Check these locations:
%LOCALAPPDATA%
%APPDATA%\Microsoft\Windows\Start Menu\Programs\Startup
%ALLUSERSPROFILE%\Microsoft\Windows\Start Menu\Programs\Startup
%ALLUSERSPROFILE%\Application Data\Microsoft\Windows\Start Menu\Programs\Startup
Locate suspicious executable files that could belong to the ransomware, right-click them and press Delete.
Go to:
%USERPROFILE%\Desktop
%HOMEDRIVE%
Find files called Info.hta, right-click them and press Delete.
Then find and delete files named info.txt.
Close File Explorer.
Press Windows Key+R.
Type Regedit and click Enter.
Navigate to these paths:
HKEY_LOCAL_MACHINE\SOFTWARE\Microsoft\Windows\CurrentVersion\Run
HKEY_CURRENT_USER\SOFTWARE\Microsoft\Windows\CurrentVersion\Run
Look for value names belonging to the malware, right-click them and press Delete.
Close Registry Editor.
Empty Recycle Bin.
Restart your computer.
In non-techie terms:
Eight Ransomware is a malicious application that encrypts files to take them as hostages. As you see, even if encrypted files become unreadable, they can still be restored if you only have the right tools. The problem is that the needed decryption tools are often unique and available only to the malware's developers, who cannot be trusted. They may promise to send such tools as soon as they receive payment, but the truth is that they may not bother to do so. Thus, we advise not to pay ransom if you fear you could be scammed and do not want to take any chances. Also, we recommend deleting Eight Ransomware as soon as possible because if it stays on the system it could possibly encrypt new files since the malicious application can auto start with Windows. To learn how it could be erased manually, you should have a look at the instructions available above this paragraph.