Do you know what EdgeLocker Ransomware is?
EdgeLocker Ransomware can hit you hard as this vicious ransomware program can encrypt all your important files once it penetrates your Windows OS. Hopefully, these dangerous malware threats belonging to the ransomware category teach the general public to be more security-minded and keep a backup copy of the most important files on an external drive. However, if you do not have such a backup, you may have to say goodbye to your photos, videos, documents, and more because this infection can encrypt them all. Your only chance to recover your files seems to be to pay the demanded ransom fee to these cyber crooks; however, we do not recommend this at all. On one hand, you would be supporting further online crimes; on the other hand, there is no guarantee that these criminals will send you the private key that is needed to decrypt your files. Of course, this is your decision to make. We definitely believe that you should remove EdgeLocker Ransomware if you want to use a clean computer in security.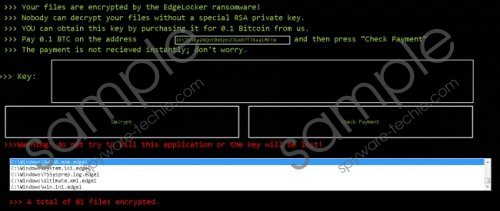 EdgeLocker Ransomware screenshot
Scroll down for full removal instructions
This devastating malware infection, similarly to CryptoLockerEU Ransomware, BadEncript Ransomware, and Loveserver Ransomware, mostly spreads via spamming campaigns. This means that the authors of this ransomware attach a malicious executable file to spam mails. This attachment may appear to be a photo or a text document at first sight. The biggest mistake the infected victims do is that they download and view this file; and, this is how it is actually initiated. We must also mention that certain infections are distributed in malicious mails that simply need to be clicked on, i.e., opened and the infection would drop automatically. For this reason, you should be very careful around your inbox and spam folder as well and never open questionable or suspicious e-mails, let alone download their attachments.
As a matter of fact, today's cyber crooks are very sophisticated and keep evolving in their methods to fool us. Such a spam, for example, may appear to come from a state department, an Internet provider, a bank, and so on. The subject is also critical since this is the real bait here. It is usually something that would attract your eyes right away even if you find this mail in your spam folder. The real trick is that even when you do not even think that it is possible that the content relates to you, temptation and curiosity would most likely win over you and make you want to open it and see the attachment.
Such convincing subjects include credit card issues, undelivered e-mails, undelivered parcels, wrong hotel room booking, and the like. Now, think again if you would really suspect such an e-mail and could identify it right away as a spam. There you go. This is how it works. These serious threats definitely teach a lot about prevention, too. As you may already know or assume, by the time you are ready to delete EdgeLocker Ransomware, your files will have been all encrypted. Since there is no known free tool to recover your files, it is quite likely that you will lose them all unless you have an external backup copy.
It seems that this ransomware uses the usual RSA encryption algorithm and it targets your %USERPROFILE% directory and its subfolders as well as your %WINDIR% directory, but it seems that this infection only targets files without signatures in the latter. All the files that have been taken hostage get a new, ".edgel" extension, which uniquely identifies this attack. Once the damage is done, a black window covers your screen, which cannot be closed or moved away. This is the ransom note that informs you about the fact of the encryption and the details of the payment. You can only kill this window if you open your Task Manager and end the malicious process.
This note instructs you to pay 0.1 BTC (around 88 dollars right now) to the provided Bitcoin wallet address. We have found that this BTC address is different for every user. You are threatened not to tamper with the application because you would risk the deletion of your private key from the secret server. Nevertheless, we do not recommend that you pay this fee because it may be all in vain since there is little chance that these criminals will actually send you the private key for you to be able to unlock your files. The only solution we see here is to remove EdgeLocker Ransomware immediately.
If you want to put on your metaphysical gloves and beat this malware infection to a pulp with your own hands, you can use our guide that we have included below this article. It is possible that you are not the manual type and you would like to do something more effective and automatic. Therefore, we suggest that you find a trustworthy malware removal application, such as SpyHunter, and install it as soon as possible. Keep this security tool always up-to-date for best results. If you have any issues and questions regarding the removal of EdgeLocker Ransomware, please leave us a comment below.
Remove EdgeLocker Ransomware from Windows
Tap Ctrl+Shift+Esc keys to launch Task Manager.
Find the malicious process and click End task.
Close your Task Manager.
Tap Win+E to launch File Explorer.
Locate the downloaded malicious executable file and delete it. Possible default locations include: %Temp%, Downloads, Desktop, %Appdata%, and %Localappdata%
Empty your Recycle Bin and restart your PC.
In non-techie terms:
EdgeLocker Ransomware is a dangerous threat that you should not take lightly. This ransomware can encrypt your precious files and only decrypt them if you send the authors around 88 dollars worth of Bitcoins. However, you should not get your hopes too high that you will ever receive the private key to be able to unlock your files. As a matter of fact, we recommend that you remove EdgeLocker Ransomware right away. If you have a backup on a portable device, you can easily copy your clean files back once you finish with the removal. Use a professional anti-malware program if you do not want to risk the manual method.