Do you know what Ecovector Ransomware is?
If your desktop image has been changed without your authorization and the new image informs you about the fact that your personal data has been encrypted, it is likely that a ransomware program is active on your computer. Once such malware is entailed as Ecovector Ransomware. If you ever find it fully active on your computer, you must not waste any time and conduct its complete removal. This is critical since this malicious program exhibits invasive and harmful features. It not only can encrypt your personal data but could also be the reason other devious programs might be able to enter your operating system without a lot of trouble. In order delete Ecovector Ransomware from your computer, make sure to follow the instructions that we present below. The removal guide was crafted by malware experts working at our internal labs with an intention that even users without an advanced computer knowledge could get rid of it in just a few simple steps.
One of the most alarming things about Ecovector Ransomware is the fact that it starts its malicious functionality silently. It means that in the majority of cases, users are not even aware of the fact that this ransomware is up and fully running on your PC. Only when it is done with the whole encryption procedure will you see visible changes within your operating system; your default desktop image will be altered without any notification. The image will display a warning message informing you that your personal data has been encrypted, and if you wish to get it back, you will need to contact the developers of this malware and pay a ransom. It is important to note that paying for a decryption procedure is a risk that we advise you not to take. Remember that the creators of Ecovector Ransomware are not officially obliged to perform such a task; thus, you might lose quite a large sum of money along with personal files. It is important to highlight the fact that the ransomware application in question uses the RSA-2048 encryption algorithm. This signifies the fact that a manual decryption procedure is impossible. If you detect this malware on your PC before noticing any visible changes, a complete removal of it is a must. This way you would be able to save your personal data before it is encrypted. Use the removal guide that we provide below to get rid of this malicious program once and for all.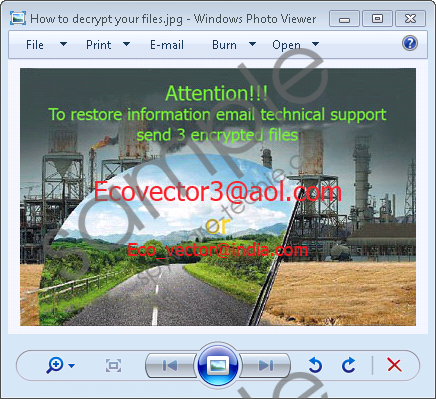 Ecovector Ransomware screenshot
Scroll down for full removal instructions
Malware experts at Spyware-Techie.com have discovered that in most cases Ecovector Ransomware is distributed via spam email attachments. It is important to note that such means of distributions are quite popular among the developers of malicious software. Thus, to improve your overall virtual security, you need to take care while opening any e-mails from unknown senders. In addition to that, you should also avoid all questionable third-party websites as they are known to be the primary source of unwanted and even malicious software. Often dubious download sites host bundled installers, which are infamous for being associated with malware distribution. In other cases suspicious sites could have an arbitrary code execution exploit, meaning that just entering such a site is more than enough to get your PC infected. Lastly, but most importantly, you should always have a reliable malware detection and removal tool active on your PC as it can detect and warn you about Ecovector Ransomware or any other malicious program. If you successfully take these preventative steps, you will be able to maintain a fully secure system at all times.
Make sure to remove Ecovector Ransomware as soon as it is detected fully running on your PC. This is critical since keeping this ransomware active on your PC will result in a huge loss of data. Do not skip any steps while following the removal instructions since just a single mistake or a missed step could result in an incomplete removal of Ecovector Ransomware. It goes without saying that finding yourself in such situation could have unwanted outcomes, to say the least. To avoid all of this, you need to execute a detailed analysis of your entire operating system for potential leftovers linked to this ransomware. Such analysis must be executed as soon as you are done with the manual removal.
How to remove Ecovector Ransomware from your PC
Open your File Explorer.
Go to C:\Windows\SysWOW64.
Locate the malicious .exe file and remove it.
Now go to C:\Windows\System32.
Locate the malicious .exe file and then delete it.
Click the Windows button.
Type regedit into the search field ant select it.
Go to HKEY_LOCAL_MACHINE\SOFTWARE\Microsoft\Windows\CurrentVersion\Run.
Select the malicious registry value and remove it.
In non-techie terms:
We are aware of the fact that quite a few users might find the manual removal and analysis too challenging. If you happen to be such a user, you should not worry as we present an alternative removal guide that will help you delete this ransomware in an automatic manner.