Do you know what Ebola Early Warning System is?
Ebola Early Warning System is a disturbing piece of software that could be used to introduce users to advertisement-supported software (adware) and potentially unwanted programs (PUP). Even though in the past the disruptive threat was promoted via ebolawarnings.com and ebola.events, both of these sites are now inaccessible. Regardless, right now Ebola Early Warning System can be installed onto the operating system without permission, and it can be installed with other unreliable programs that you will have to remove. Needless to say, you have to delete Ebola Early Warning System as well. Even if you find the service of the application interesting, you should not trust the program.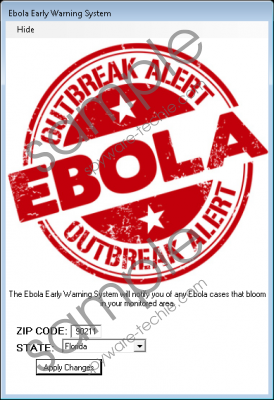 Ebola Early Warning System screenshot
Scroll down for full removal instructions
The Ebola virus and its monstrous, unstoppable outbreaks are in the center of attention of people around the world. The demand for constant updates and news is the reason why Ebola Early Warning System has been created. This is how the application is promoted:
Are you safe from Ebola?
Don't fall victim to one of the deadliest plagues in history!
Get instantly notified when Ebola strikes you!
DOWNLOAD NOW
The site (ebolawarnings.com) also was noted to present a pop-up dialogue box recommending the installation of Ebola Early Warning System Toolbar. The application published by TheWay Holdings LLC is not considered to be trustworthy. According to our research, the application often comes packaged with ONLY Search Toolbar, Block-n-Surf by Revizer Technologies Ltd., oneSOFTperday by Agence-Exclusive, VuuPC software, System Optimizer Pro, and other unreliable programs that must be deleted. If you do not remove Ebola Early Warning System-associated threats, you will be flooded with pop-up and banner advertisements. Clicking on these ads is dangerous, because they represent unfamiliar parties. Besides presenting advertisements, the suspicious program could also aid webpage redirecting, and this could be used by malware distributors. Overall, you must remove Ebola Early Warning System and the related threats.
Ebola Early Warning System removal is quite complicated, because it is not possible to just uninstall it. You must remove files and registry entries to ensure that all processes of the disturbing software are terminated. Even though it is possible to remove Ebola Early Warning System manually, this is not what we recommend, especially if other adware and PUPs are active. Instead, you should employ reliable automatic malware removal software.
Delete Ebola Early Warning System
Open the Registry Editor (type regedit into RUN/Search).
Remove Ebola EWS from HKEY_CURRENT_USER\SOFTWARE\Microsoft\Windows\CurrentVersion\Run.
Open the Task Manager and End the process representing Ebola EWS.
Open the Windows Explorer (Win+E) and go to C:\Users\user\AppData\Local\.
Remove the files representing Ebola Early Warning System.
In non-techie terms:
Ebola Early Warning System can be identified as an advertisement-supported program, because it can introduce users to third-party advertisement-supported software and PUPs. If you do not remove Ebola Early Warning System and delete the related threats, your virtual security could be jeopardized. Use the instructions above as a rough guide for the manual Ebola Early Warning System removal, or install automatic malware removal software that will delete active threats without any mistake.