Do you know what EasySpeedCheck is?
EasySpeedCheck is a potentially unwanted application that should be removed at once if found present on your operating system. EasySpeedCheck is advertised as a tool that will check the speed of your internet connection. Due to the misleading marketing strategies employed by the publishers of this application and doubtful performance of the program it was categorized as a potentially unwanted program. It was noticed that the results could be quite questionable. Moreover, EasySpeedCheck could come bundled with some other potentially unwanted applications, which could turn out to be malicious. If you wish to avoid further virtual security problems, remove this worthless application ASAP. The malware research team at Spyware-Techie provides a removal guide and further information within this article.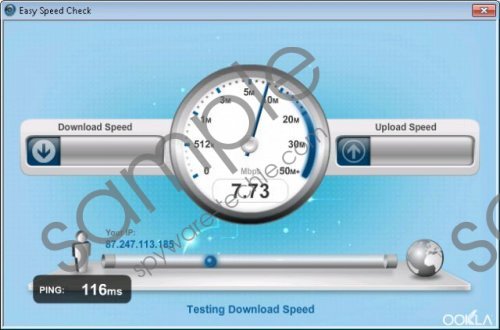 EasySpeedCheck screenshot
Scroll down for full removal instructions
It is possible to download EasySpeedCheck from the official website. Unfortunately, our reports show that quite a few users get their systems infected via software bundles. Thus, the dubious way of distribution makes this application suspicious, to say the least. Once, EasySpeedCheck enters your operating system you will be presented with an opportunity to run an internet connection speed test. The test seems to be legitimate but the results are quite questionable. However, there is more to EasySpeedCheck. Once this dubious application is up and running your browser will be full of various third-party adverts. This information is disclosed within the Privacy Policy document, that also states that the adverts provided by EasySpeedCheck are of third-parties that were not reviewed by the publishers of EasySpeedCheck. It is quite alarming because averts could redirect you to websites with potentially dangerous content. In reality, this dubious application does not hold any valuable traits and could even expose you to other internet-based infections. Removal is a must if you do not want to experience any virtual security problems.
In order to protect your system from any other infections on the web you must install a reliable malware detection and removal tool that will safeguard your system against various virtual security threats. It is also very important to practice safe browsing habits as well. Furthermore, pay extra attention while installing anything onto your PC. All of this will make your system virtually unbreakable so you will not have to puzzle yourself with various removal guides.
Fortunately, the removal of EasySpeedCheck is rather simple as you can delete it via Control Panel. After removing EasySpeedCheck via Control Panel the annoying and potentially malicious activities will be stopped. It is very important to act as soon as you locate EasySpeedCheck on your PC because delaying the removal could have extremely detrimental consequences – your system could be infiltrated by Trojans, rootkits, or keyloggers.
How to remove EasySpeedCheck from your operating system
Remove EasySpeedCheck from Windows 8
Access the Metro UI menu.
Now right-click on the background and select All apps.
Now locate and select Control Panel.
Click Uninstall a program.
Now select EasySpeedCheck and click Uninstall.
Remove EasySpeedCheck from Windows 7 and Windows Vista.
Tap the Windows+R keys simultaneously.
Then type Control Panel into the command line.
Tap Enter.
Now under the Programs section select Uninstall a program.
Now double-click EasySpeedCheck.
Confirm that you want to remove EasySpeedCheck.
Remove EasySpeedCheck from Windows XP
Click the Start button.
Now click Control Panel.
Then select Add or Remove Programs.
Select EasySpeedCheck and click Remove.