Do you know what Easysearchit.com is?
Our cyber security experts have concluded that Easysearchit.com is not just a search engine but a browser hijacker as well. Their research has revealed that it is distributed through malicious bundled installers that install it on a computer secretly and replace your browser's homepage. Furthermore, Easysearchit.com should come with its dedicated browser extension that works as a vehicle for distributing this hijacker. Once on your computer, it will gather information about you and show shady commercial advertisements in its search results.
Malware analysts have discovered that Easysearchit.com was created by Imali Media Ltd. This company is in the online advertising and web monetization business. Its business revolves around creating malicious browser extensions and browser hijackers that are lumped together in third-party software bundles and put up for download on shady freeware distributing sites. This company has previously released hijackers that include Funkytvtabssearch.com, Search.socialnewpagessearch.com, Search.funtvtabplussearch.com, Snjsearch.com, and many others that are also distributed in this manner. The bundled installers were configured to inject the accompanying browser extension into your browser secretly, and you cannot deselect their installation. The aim of the game is to hijack your browser and force you to use this hijacker as a regular search engine.
Now, if you do not pay attention, then you might think that Easysearchit.com is a safe and reliable search engine. However, this is not true because, like the hijackers that came before it, Easysearchit.com was designed to contain promotional links and advertisements in its search results that come from unknown and, thus, unreliable sources. Indeed, Imali Media does not disclose its advertising partners and the fact that they are apt to promote malicious content is probably the reason they do it. These malicious links can redirect you to fake online shopping websites or sites that promote fake anti-malware programs or other malware. In the worst case scenario, your PC might become infected with spyware or ransomware. This hijacker places promoted links among its regular search results, so you cannot tell which link is legitimate and which is just a promoted link.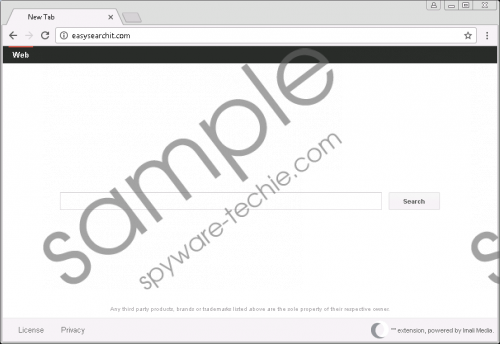 Easysearchit.com screenshot
Scroll down for full removal instructions
It is worth mentioning that this browser hijacker was set to collect information about you as well. Our malware analysts have concluded that this hijacker can collect anonymous information automatically. This anonymous information includes your IP address, Internet Service Provider (ISP) domain name, approximate geographical location, browsing history, entered search queries, browser type, and operating system type. This hijacker collects this information using web beacons, pixels, browser cookies and other technologies. Imali Media uses this information to customize and personalize the ad campaign to maximize their income because you have to click an ad for Imali Media to generate revenue.
As you can see, Easysearchit.com is one malicious search engine that can subject your computer to malicious content that can infect it with malware. It will also collect information about you and use it for commercial purposes. In short, there is no benefit in keeping this hijacker, and there is a degree of risk involves as its ads come from unreliable sources. If you want to remove Easysearchit.com, we invite you to consult the guide below.
Remove this browser hijacker's browser extension
Google Chrome
Simultaneously press Alt+F.
Select More tools.
Click Extensions.
Find the malicious extension and click Remove.
Mozilla Firefox
Simultaneously press Ctrl+Shift+A.
Click Extensions.
Find the extension.
Click Remove.
In non-techie terms:
Easysearchit.com only looks like a search engine, but there is more to it than meets the eye. It is distributed in a highly malicious manner and is set to replace your browser's homepage address without your authorization. Its search results are apt to feature modified search results with ads and promotional links that can jeopardize your PC's security. To remove this hijacker, please consult the guide above.