Do you know what EasyDirectionsFinder Toolbar is?
EasyDirectionsFinder Toolbar is a browser extension that claims to provide you with directions while you are traveling. Its main features are route planning, bus and train schedules, transit maps and more. However, this program is not all that useful and, in fact, it is borderline malicious. We recommend that you remove it because its stated features are nothing more than links to third-party services and that it was set to hijack your browser's homepage address with a shady search engine that is apt to featuring promotional links and ads. Furthermore, this toolbar can collect some information about you to improve its services allegedly. As you can see, it is a deceptive program, and its main purpose is to generate ad revenue.
If you get this toolbar on your web browser, then it will replace your browser's homepage address with its featured search engine Hp.myway.com. This search engine is enhanced by Google, so you get Google's quality search results but the down side is that Hp.myway.com can modify the results to include promotional links ads that come from unknown advertising partners. This search engine and EasyDirectionsFinder Toolbar were both created by a company called Mindspark Interactive Network. Therefore, both the search engine and this toolbar work hand in hand to provide their questionable services. The third-party services mentioned in the introduction are hosted at Terrafly.fiu.edu, Wego.here.com/traffic?ct=hm_map, and Lonelyplanet.com. While you can get directions from these sites, the toolbar is misleading as it suggests that it provides the services, but the reality is that it only features links.
Now back to EasyDirectionsFinder Toolbar. Apparently, according to its privacy policy, this toolbar can collect certain information about you. It can obtain your name, email address, phone number. Furthermore, it can collect some non-personally identifiable information such as your page views, link clicks, and login times. This toolbar's developers also allow third parties to collect information about you in order to deliver you targeted advertisements. There is no telling whether the ads come from legitimate sources and we believe that a small portion of them can be of malicious nature. It is possible that this toolbar's ads will redirect you to fake online shopping websites, phishing sites, and so on.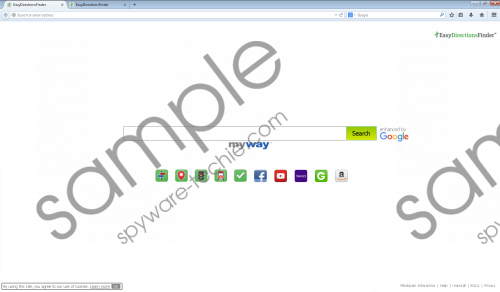 EasyDirectionsFinder Toolbar screenshot
Scroll down for full removal instructions
As mentioned, EasyDirectionsFinder Toolbar and Hp.myway.com were made by Mindspark Interactive Network. This company has made and continues to make dozens of similar toolbars, and the reason it does that is that it makes money off ad revenue. This company has been releasing such toolbars for a long time now because they are regarded as potentially unwanted programs that many anti-malware programs are set to detect and delete. Therefore, this company is inclined to release new toolbars as the older ones are added to the databases of anti-malware programs. They try to be one step ahead of cyber security companies, but they are quick to catch up with them as soon as a new toolbar is out.
Mindspark employs several distribution methods. You can get this program accidentally as it can be bundled with third-party software featured on freeware distributing websites. The bundled installers may install it on your PC secretly as the bundled installers might not disclose its full contents. The bundled installers can install this toolbar on your browser if you use Google Chrome, Mozilla Firefox or Microsoft Internet Explorer. You can also download this toolbar from its dedicated website at Easydirectionsfinder.com for all browsers. Furthermore, you can get it from the Chrome Web Store for Google Chrome. As you can see, this program has no shortage of distribution methods, and you can get it on your own or have malicious installers inject it into your browser without your knowledge.
As you can see, EasyDirectionsFinder Toolbar is one shady toolbar that you can do without. It was created for advertising purposes, and its official functions are nothing more than gimmicks. The content this toolbar may promote can be o malicious nature and the fact that it replaces the homepage address by force makes it highly undesirable. If you want to remove this toolbar, please see the guide below.
Uninstall from Control Panel (IE only)
Windows 10
Right-click the Start menu.
Click Control Panel and go to Uninstall a program.
Find the software and double-click it.
Click Uninstall.
Windows 8/8.1
Open the Charm bar.
Click Settings and select Control Panel.
Open Uninstall a program.
Find the program.
Click the Uninstall button.
Windows Vista/7
Click the Start menu button.
Open Control Panel.
Go to Uninstall a program.
Find the undesirable application.
Right-click it and click the Uninstall button.
Windows XP
Open the Start menu.
Open Control Panel.
Select Add or Remove Programs.
Find application and click Uninstall.
Remove this toolbar from other browsers
Google Chrome
Press Alt+F.
Open More tools.
Select Extensions.
Locate the toolbar.
Click Remove.
Mozilla Firefox
Press Ctrl+Shift+A.
Click Extensions.
Find the toolbar.
Click Remove.
Restart the browser.
In non-techie terms:
EasyDirectionsFinder Toolbar is a browser extension that we have classified as a potentially unwanted program as it changes the homepage address to a search engine that featured promotional links and ads in its search results. It also collects information about you to deliver targeted ads. Lastly, its official features are nothing more than gimmicks, so we suggest removing this program.