Do you know what E-Buyer is?
E-Buyer is a program that might enter your system without your consent, but you will probably not know that for some time because this software does not have an interface. In other words, you will not see any kind of program and thus you will not be able to open it. Of course, you will definitely notice that something strange is happening because all kinds of commercial advertisements will start appearing on different web pages. This does not mean that they are gone if you close them all; they will definitely appear on other web pages again. You can get rid of those irritating ads by removing E-Buyer from your system. There is no point in postponing the removal process because this program is useless.
Our specialists have tested this program shortly after its emergence on the web and found out that E-Buyer has been developed to show coupons, pop-ups, banners, and other types of ads only. You may ask what is the point of showing them. In our opinion, the developer of this advertising-supported application receives money for clicks on the ads. Therefore, it is not surprising that E-Buyer tries to convince users to do that. First of all, it shows ads that are based on a user's interests. In addition, it displays them on various web pages so that users could click on them accidentally. As mentioned above, E-Buyer tracks users and collects details about their main activities. It seems that it is not interested in personal information; however, there is still a risk that some personal details will be recorded by mistake and sent to third-party companies. Therefore, we suggest that you delete E-Buyer. These are not the only reasons why you have to do that. According to our researchers, it is very suspicious that E-Buyer would create a Scheduled Task in order to check for existing updates. You can change everything by erasing this adware from the system.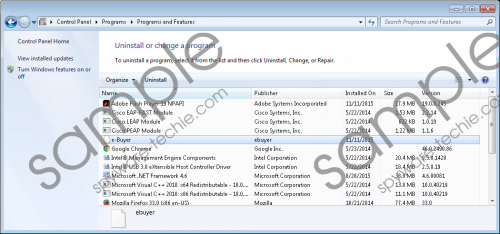 E-Buyer screenshot
Scroll down for full removal instructions
Advertising-supported applications often travel bundled with other programs and thus might enter your system without your permission. You might also find them on third-party web pages, too, so you should be very careful all the time. Specialists say that you should definitely not allow i-shop to slither onto your PC because it acts exactly like E-Buyer. You will make sure that this does not happen if you install a security tool on your computer. You should be very careful on third-party web pages as well because you might download a bunch of unreliable software from such pages in the blink of an eye.
E-Buyer can be deleted via Control Panel; however, many computer users still find this rather difficult. Therefore, we have placed the instructions that will help you to implement the manual E-Buyer removal in a few seconds. Less experienced users should go for the automatic removal, i.e., they need to acquire a trustworthy antimalware scanner and then perform a system scan.
Remove E-Buyer
Windows XP
Click on the Start button in the lower-left corner.
Click Control Panel.
Click Add or Remove Programs.
Select the program and click Remove.
Windows 7/Vista
Open the Start menu.
Click Control Panel.
Go to Uninstall a program.
Right-click on E-Buyer and then Uninstall it.
Windows 8/Windows 8.1/Windows 10
Launch RUN (tap the Windows key + R on your keyboard).
Enter Control Panel in the box.
Click OK.
Click Uninstall a program.
Right-click on E-Buyer.
Click Uninstall.
In non-techie terms:
Remember, our instructions will not help you to eliminate other infections from your system. Of course, there might not be any installed; however, we still suggest that you scan your system with an automatic scanner, such as SpyHunter, after you finish the manual E-Buyer removal, because adware programs tend to travel in a bundle with malware. The automatic tool will inform you about your system's condition. If it finds any threats, delete them all as soon as you can.