Do you know what Dynamic Updater is?
Dynamic Updater could be a useful application in an alternate reality where browsers and extensions have no updaters themselves, but that is not the only reason why our researchers believe that this application is totally worthless and undesirable on your PC. In fact, there are several issues with regard to this program that we would like to share with you now so that you can arrive at a well-based conclusion about this infection. Due to the strange factors surrounding this program, it has been labeled as a PUP, a potentially unwanted program. While Dynamic Updater may not be a dangerous threat, such as a Trojan horse malware infection, there are too many questionable traits this PUP showed while it was tested in our internal lab. According to our researchers, you are better off removing Dynamic Updater because it may start behaving unreliably. The longer you keep a suspicious application on your computer, the more chance it has to introduce you to malware infections and unreliable websites.
Most often applications have official websites – even the shady ones need some background story – and the domain name usually reflects the application name in order to be easier for search engines to rank it and for users to find the respective websites. So in this case you might think that the official site for Dynamic Updater should be dynamicupdater.com or something similar. But you would be wrong. Here comes the first "shocker" with regard to this PUP: It is available for installation from pickyourwallpapers.com. What do you guess this website is about? Yes, wallpapers. So what does an alleged browser and extension updater has to do with desktop wallpapers? Most probably nothing.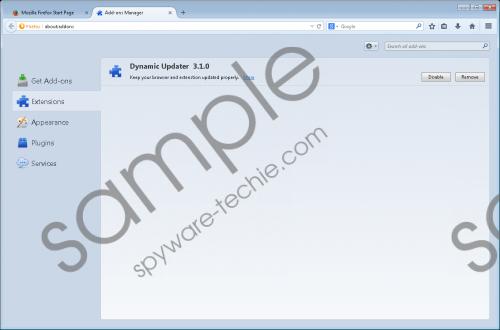 Dynamic Updater screenshot
Scroll down for full removal instructions
But there is something even more worrisome about Dynamic Updater, and that hits you when you want to download it and tap the Download Extension button. Both Google Chrome and Mozilla Firefox, which are the two browsers this PUP seems to affect, "dynamically" warns you that you are dealing with a suspicious program and you can only install it at your own risk. Well, that is not what you expect from a reliable application, right? As a matter of fact, this should be a rather strong sign that you should not have this browser extension on your computer. Therefore, if you already have it, we suggest that you delete Dynamic Updater before it poses a threat.
Our suspicions about this useless program only got stronger when we realized that it may also come in free software bundles that may contain malware programs as well. You can download such infected packages from unreliable file-sharing websites. If you have installed freeware lately, chances are you infected your computer with a bunch of PUPs and worse, malware infections. In this case you have no other choice than to delete Dynamic Updater and all the other threats as well.
Dynamic Updater may not update anything; as a matter of fact, it may simply start showing you annoying and potentially dangerous third-party ads. We advise you never to click on any commercial that has anything to do with this PUP. You can never know that the ads on your screen are trustworthy or potentially unsafe to click on. Landing on websites that may be run by cyber criminals is not something you want to experience; that is something you want to avoid at all costs. That is why we believe that you should remove Dynamic Updater if you want to protect your system.
Since this PUP only installs its browser extensions in Google Chrome and Mozilla Firefox, you can simply remove these extensions and this threat is gone from your PC. Please follow our guide below if you are not sure how to do that. Do not forget about the other possible threat factors though. If you do not take action against the malware infections that may be on-board, your PC will not be secure. We recommend that you install a reputable malware removal tool that will automatically sort out all your security issues and protect your computer from similar attacks.
Dynamic Updater Removal from Your Browsers
Google Chrome
Press Alt+F and go to Settings.
In the left panel, select Extensions.
Click on the extension and press Remove.
Mozilla Firefox
Press Alt+T and access Add-ons.
On the left, choose Extensions.
Select the extension and press Remove.
In non-techie terms:
Dynamic Updater is a potentially unwanted program that is rather questionable and certainly not a useful one for you. As a matter of fact, this program seems to have no real function, but it does have the capability to show you potentially harmful third-party commercial ads. What's more, this PUP may come on-board along with malware infections that may pose a threat to your system's security. Therefore, we advise you to remove Dynamic Updater together with any malware threat you may find on your computer. In order to be efficient, we suggest that you use a reliable antimalware application.