Do you know what DrSpeedyPC is?
We recommend caution when using DrSpeedyPC, because it is considered a potentially unwanted program that many people have chose to remove. It is advertised as a PC optimizer cleans "junk" that accumulates over time. Its website does not mention anything specific about it what it is capable of. It is just vague sentences that make little sense. Is this application a hard drive cleaner? Is it a registry scanner? Or is it a security-related application? Empty and obscure statements found on its promotional websites can mislead people. Therefore, we took it upon ourselves to analyze this application in order to clarify what it actually is.
In the opinion of our researchers, DrSpeedyPC is on par with programs, such as SpeedOptimizerGuru, System Healer, Cleaner Pro, and PC Cleaner. The developers of such applications claim that their program will fix various errors and make your computer run super fast. But more often than not, you get nothing, because they are paid and they will only "optimize" your computer once you purchase a license key. PC Cleaner is different from the rest of the lot, because it has a supposed 180-day trial, but it does not exactly fix anything even when the trial version is activated. The scan is done within a few seconds which is also suspect, because a thorough scan requires at least 30 minutes which is also subject to how many files you have on your machine. Nevertheless, it displays some search results. It provides information about the "issues" found in the Windows Registry and problematic files found in hidden folders. However, DrSpeedyPC's findings do not appear dangerous. You can repeat to scanning and cleaning process multiple times and the number of issues found will increase and drop between scans, so how can the number of issues increase after a supposed clean? We think that the scan is unreliable so we do not recommend buying this software.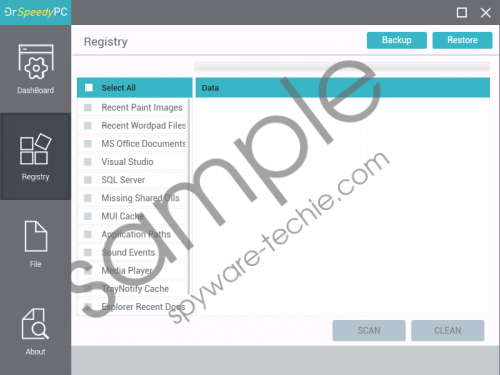 DrSpeedyPC screenshot
Scroll down for full removal instructions
We do not know who made this application as its stated company name also appears to be DrSpeedyPC. It is typical for the developers of potentially unwanted programs to name their alleged company after the product they are trying to sell. As far as this application's dissemination methods go, DrSpeedyPC is known to be distributed as a standalone application via its promotional website at Drspeedypc.com. It can also be found bundled with legitimate applications that are put up for download ad various freeware distributing websites. If you fancy downloading freeware, then we encourage you to opt for advanced installation settings and remove undesirable applications from the installation by unchecking their checkboxes.
As you can see, DrSpeedyPC is of questionable reliability. You can get a 180-day trial, but the application does not fix the issues that it located. And the issues that it locates do not appear to be issues at all. Registry errors of non-malicious applications pose no threat to your computer's security or slow it down. It also scans for irrelevant files that hide in temporary Windows. They can be regarded as junk but they definitely do not take up to much space and slow down your computer. Bottom line is that they accumulate naturally, so you should not regard them as some sort of major issue. Therefore, you can remove DrSpeedyPC because it will not noticeably increase your computer's speed or make it run smoother.
How to get rid of DrSpeedyPC
Windows 10
Right-click on the Windows Start menu logo.
Select Programs and Features.
Locate DrSpeedyPC t and right-click on it.
Click the Uninstall button.
Windows 8 and Window 8.1
On your keyboard press the Windows key+X.
Open Control Panel and click Uninstall a program.
Locate the program and double-click on it.
Click Uninstall.
Windows 7 and Vista
Open the Start menu and click Control Panel and select Uninstall a program.
Locate DrSpeedyPC and click Uninstall.
Windows XP
Open the Start menu and click Control Panel.
Select Add or Remove Programs and find DrSpeedyPC.
Locate Uninstall.
How to remove DrSpeedyPC from your browser
Microsoft Internet Explorer
Press Alt+T.
Select Manage Add-ons.
Click Toolbars and extensions.
Find DrSpeedyPC and click Remove.
Mozilla Firefox
Press Ctrl+Shift+A.
Select Extensions.
Find DrSpeedyPC click Remove.
In non-techie terms:
Our malware analysts regard DrSpeedyPC as a potentially unwanted program that displays unreliable scan results. It scans Windows Registry and hidden system folders for junk files that are not that big of an issue. The things this application locates to not slow down your computer, so do not expect any miracles. In any case, we find DrSpeedyPC's scan somewhat shifty. Therefore, you should remove this unreliable application.