Do you know what Driving Directions Home is?
Driving Directions Home is likely to be an extension that sets Drivingdirectionshome.org as the default search provider or homepage. This suspicious browser hijacker is the focus of our research, and we need to look into it very carefully. While the extension – if it still exists – is definitely classified as a potentially unwanted program, it is likely to be an instrument to expose users to the hijacker. Needless to say, our research team strongly recommends deleting it, and you should be able to find all the information you need in this report. Hopefully, you can get rid of the hijacker by removing Driving Directions Home, but if that does not happen, we can show you how to eliminate it in a different way.
Drivingdirectionshome.org has an interface of a regular search engine. In fact, it might appear to be much more useful than that because besides providing you with a search dialog box – which is what a normal search engine should provide you with – it also displays easy-access links to various useful sites. As the name reveals, the hijacker is meant to present you with content related to directions. Due to this, the placement of "Map Sites," "Live Traffic," and "Satellite Maps" buttons is not that surprising. These buttons hide links to maps.google.com, bing.com/maps, mapquest.com, waze.com, trafficland.com, and various other sites. On top of that, the row of links right below the search dialog box enables quick access to Facebook, Gmail, Youtube, Yahoo Mail, Twitter, and other well-known services. If you look at this only, it is unlikely that you will rush to delete Drivingdirectionshome.org.
While the links represented via the interface of Drivingdirectionshome.org are not malicious, we cannot guarantee that you will face harmless links when using the search tool. Although Driving Directions Home redirects to Yahoo Search at search.yahoo.com, the links displayed in the search results could be curated by the PUP/hijacker. There are plenty of browser hijackers that use popular search tools just to trick users into interacting with unpredictable third-party links. Some of them include Search.searchytds.com, Search.hfreeforms.co, and Convertpdfsearch.com. Needless to say, it is recommended that you delete these threats from your operating system as soon as possible. We strongly advise that you remove Drivingdirectionshome.org as well because it cannot be trusted as a normal search provider. Overall, whether or not you decide to eliminate this suspicious software, you need to investigate your operating system because it is possible that malware came bundled with the PUP or the hijacker.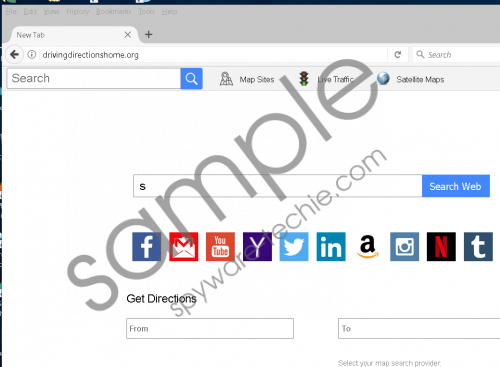 Driving Directions Home screenshot
Scroll down for full removal instructions
Have you inspected your operating system using a reliable malware scanner? If you have not, what are you waiting for? Drivingdirectionshome.org and Driving Directions Home do not have official download sources, and if they are spreading, the chances are that they are distributed by third parties along with other unreliable pieces of software. Hopefully, other threats are non-existent, but if they do, you need to get rid of them ASAP, and a trusted anti-malware tool can take of that. If you choose not to install it, you will need to eliminate all unwanted programs manually. The guide below reveals how to uninstall unwanted apps and modify search tools on the browser. Unfortunately, we cannot guarantee that this is all you will need to do to get your PC and browsers cleaned.
Remove Driving Directions Home
Windows XP
Click the Start button on the Taskbar.
Open Control Panel and then move to Add or Remove Programs.
Select the undesirable app and then click Remove.
Windows Vista, Windows 7, Windows 8, or Windows 10
Simultaneously tap Win+R keys to launch the RUN dialog box.
Enter control panel to access the menu and then move to Uninstall a program.
Right-click the undesirable program and then choose Uninstall.
Mozilla Firefox
Open the browser and tap keys Alt+T.
Select Add-ons and then move to the Extensions menu.
Remove the unwanted extension.
Tap Alt+T to open the Tools menu one more time.
Select Options and then move to the General menu.
Change the URL in the Home Page section.
Navigate to the Search menu.
Set the desired provider and then Remove the unwanted one.
Internet Explorer
Open the browser and tap keys Alt+T.
Select Internet options and then click the General tab.
Change the URL in the Home Page section and then click OK.
Tap keys Alt+T and select Manage Add-ons.
Move to Search Providers and, first, set the desired provider.
Remove the unwanted provider and then click Close.
Google Chrome
Open the browser and enter chrome://extensions/ into the address bar.
Click the recycle bin next to the unwanted add-on and select Remove.
Enter chrome://settings/ into the address bar and move to Search engine.
Click Manage search engines and Remove from list the unwanted provider.
Go back and move to the On Startup menu.
Remove the unwanted startup option.
In non-techie terms:
Have you downloaded Driving Directions Home and your browsers were modified without your permission? If that has happened, and you are now facing Drivingdirectionshome.org, there are a few things to consider. Was this software downloaded with your permission? Obviously, if it was not, you need to get rid of it right away. Can you trust the search tool? Our research team does not recommend it, which is why it is suggested that you delete it instead. Finally, were other threats installed along with this PUP and browser hijacker? If they were, you must eliminate them ASAP. We recommend employing anti-malware software for that. If you have questions, or you want to talk more about any specific things, start a discussion in the comments section below.