Do you know what Driedsister Ransomware is?
Driedsister Ransomware, or "下 物 妹" ("Irisimo imoto"), is a Japanese ransomware infection without a ransom demand. It may be strange for you why cyber criminals would attack you, encrypt all your personal files making it impossible for you to use them again, and then, not even offer you a way out by buying the decryption software or key. Well, our researchers have not solved this riddle yet, i.e., what the reason behind the no ransom "policy" might be so we can only assume that these crooks are still developing their vicious program, or they have no clue how to decrypt the files. In any case, your savior in this attack, as always, is a recent backup that you may have on a removable drive or in cloud storage. If you do not have a backup, you may want to think about updating your security policy with regard to your precious files. Since there is no way for the time being to get your files back, you do not even need to think about the risk of paying the ransom fee. We recommend that you remove Driedsister Ransomware immediately.
There are usually a couple of distribution methods cyber criminals can use to infect potential victims. But our research shows that this particular ransomware is mainly spread via spam campaigns. This method is very much liked by crooks because they can easily infect thousands of people at the same time. Do not think for a second that it is easy to identify this e-mail as a spam. In fact, you may truly believe that it is indeed an important mail that you need to open right away. The sender may appear to be all legitimate as well as the subject matter. This spam may claim to be about an unpaid invoice, an issue with your bank account, a problematic online booking, or problems with your credit card details you used in an online shopping. Any of these matters could relate to almost anyone. No wonder why cyber criminals tend to use these as bait. What is vital to understand here, you cannot delete Driedsister Ransomware without possibly losing all your important files to encryption. If you want to avoid such a nightmare, you should think twice before opening a questionable mail, let alone its attachment, which, in this case, is the malicious executable itself.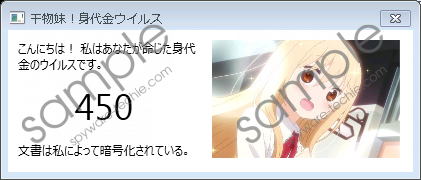 Driedsister Ransomware screenshot
Scroll down for full removal instructions
We would also like to warn you about the possibility of criminals using Exploit Kits on malicious pages to drop such an infection. The basic condition for this type of malicious attacks is for you to have outdated browsers and drivers (Java and Flash). In other words, if you do not keep your programs updated, you may infect your computer simply by landing on a malicious page armed with Exploit Kits, and then, you will be left with one choice: To remove Driedsister Ransomware or any other threat using this silent attack.
Our researchers say that this malware infection uses the usual AES encryption algorithm to cipher your photos and documents. You can easily see the extent of devastation by listing all the files with ".干物妹!" extension. Our tests indicate that this ransomware threat does not lock your screen and does not disable any system processes, either. When the encryption finishes, this infection displays a dialog box with a Japanese message and a picture of an Anime female character. We cannot even call it a ransom note because it does not mention ransom, payment, or decryption, either. This may also mean that these criminals cannot even decrypt your files, which may also indicate that it is not possible to do so. If you are lucky, though, malware experts may come up with a solution and a free tool may hit the web sometime in the near future. Still, you should know that it is always dangerous to contact or pay money to cyber criminals because they rarely send their victims anything other than a new threat. We advise you to act now and remove Driedsister Ransomware from your PC.
It is not rocket science to eliminate this threat since all you need to do is delete the related malicious file you have downloaded from the spam. Please use our guide below if you need assistance with this. Please note that keeping your files and your system protected may be out of your hands or may exceed your IT skills. Therefore, we suggest that you start using a reputable anti-malware program like SpyHunter, which can automatically take care of all your system security issues.
How to remove Driedsister Ransomware from Windows
Open your File Explorer by tapping Win+E.
Find and delete the malicious file you have recently saved.
Empty the Recycle Bin.
Reboot your system.
In non-techie terms:
Driedsister Ransomware is a dangerous new ransomware that can encrypt your personal files after it sneaks onto your system behind your back. Our researchers have found that this malware infection is meant to target Japanese computer users. However, after rendering your files totally inaccessible and unusable, this threat does not even give you a chance to recover them. It does display a dialog box with a Japanese note, but there seems to be no mention of payment or decryption. It is possible that this version is not a finished one because we have seen this in the past. Or, these attackers simply want to destroy victims' files. In any case, hopefully, you do have a backup stored on a removable hard disk since this is the only way right now for you to restore your encrypted files. We strongly recommend that you remove Driedsister Ransomware immediately and install a reliable anti-malware program to protect your PC.