Do you know what Dragon Branch is?
Dragon Branch is an advertising-supported program that is compatible with all the major Internet browsers and distributed on freeware download sites. It is best that you remove this application, because it is known to spread as a part of the software bundles that contain malware. Keeping Dragon Branch on your system is risky enough already, so you really do not want additional threats working alongside this adware app. As there is no reason why you would want Dragon Branch on your machine, keep your distance from all the sites that distribute free or pirated software. If this application has already gained access to your PC, delete it immediately, because failing to do so might result in security problems.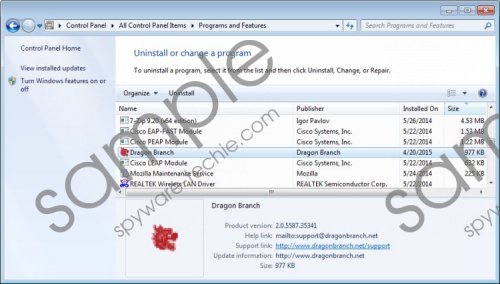 Dragon Branch screenshot
Scroll down for full removal instructions
Officially, Dragon Branch is promoted on the site dragonbranch.net. However, this home page lacks any detailed information that could convince you to try out the services this program guarantees. Our security experts know that Dragon Branch is utilized to promote third-party advertisements, so if this program is already on your system, it will probably not take long for you to notice the increase in third-party ads on your screen. The reason security-minded users delete Dragon Branch is that it might serve advertisements that can be used to expose your system to malicious content. Thus, as long as this program is active on your PC, you should stay away from all the featured links no matter how innocuous they might seem. There is no need for you to gamble with your computer's health, so remove this adware app without any hesitation.
If you are not familiar with adware, Dragon Branch might look like something you have never encountered before. The truth is the Internet is full of identical applications (Strong Signal, Roaming Rate, Positive Finds, etc.) that were developed to display commercial advertisements. Everything about these programs, from the distribution channels they utilize to questionable activities they carry out, does not inspire much confidence. Thus, you should remove Dragon Branch, because, for example, it might download additional components without asking your permission or be misused by undisclosed third-parties to get hold of your banking credentials.
If you prefer to delete Dragon Branch by yourself, follow our instructions that detail every step of the removal process. It is possible that your system is already infected with multiple threats that are impossible to remove manually. In this case the best solution is an automatic malware removal program. Dedicate some of your time to install this program, because it safeguards from all the infections you might run into during your online sessions.
How to remove Dragon Branch from your PC
Windows 8 & 8.1:
Press the Windows key + X and select Control Panel in the menu.
Open Programs and Features.
Locate Dragon Branch in the program list and click Uninstall/Change.
Windows 7 & Vista:
Press the Windows key + R, type "control panel" and press Enter.
Go to Programs and Features.
Choose the program you want to remove and click Uninstall/Change.
Windows XP:
Open the Start menu and go to Control Panel.
Switch to Category View on the left.
Open Add or Remove Programs.
Click on the application you want to delete and choose Uninstall.
In non-techie terms:
Dragon Branch is one of many adware applications that can expose computer users to malicious content via corrupted third-party links. This program might also engage in suspicious and potentially dangerous activities. We recommend that you terminate Dragon Branch with the assistance of a professional antimalware program.