Do you know what DownloadHunter is?
DownloadHunter may show up on your computer and start flooding your computer screen with potentially harmful third-party advertisements as it can infiltrate your computer in third-party installers. You may not even realize that this adware is one of the unwanted components of that package. However, it may not be the only one. So, if you find this adware on your computer that may also be a sign for multiple security risks, which require your immediate attention. Do not be fooled by the third-party ads and that they look innocent. They do hold certain risks that could harm your computer. The longer you keep this application on your system, the more time it has to expose you to unreliable web content. That is why our researchers advise you to delete DownloadHunter along with all the related malware threats.
You can find the official web page of this application at downloadhunter.info, but we do not think that too many people actually find this page to download DownloadHunter from. As a matter of fact, you may not even be able to do so, because your browser might block the file as being suspicious. Well, that is not a good start when you want to install an application. However, it does teach you a lesson; namely, you should always do a web search about the software or tool you want to download and install on your computer.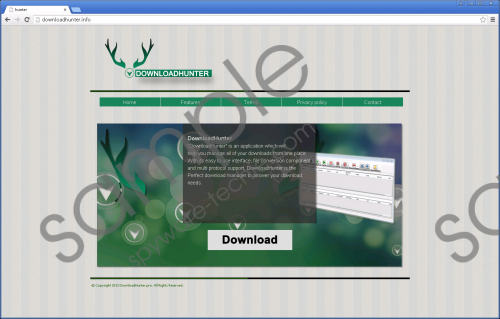 DownloadHunter screenshot
Scroll down for full removal instructions
According to our researchers, this adware belongs to the Multiplug family, which contains ad-supported programs that have been developed using the JustPlugIt cross-browser platform. There are hundreds of applications in this family, including MoreForLess, LifeSaver, and CoupontasticOffers. These all use the same method to spread all over the net: third-party installers. However, you cannot trust these installers because they may contain malicious software installers bundled together. If you let it onto your hard drive and install the whole package, your computer will be doomed. Instead of removing DownloadHunter only, now you will have to identify all possible threats and eliminate them all. If you want to find out about the malware situation, we advise you to use a free online malware scanner; one that you can trust.
You can forget about managing your downloads with this suspicious application. What it will manage is mainly the covering of your screen with third-party ads. It is also possible that you will find totally relevant ads that match your interest. But do not let these customized ads fool you because you might easily get redirected to infected sites if you click on them. That is how you could let even more infections onto your hard drive or get scammed by schemers. If you want to avoid these, you should act now and remove DownloadHunter from your computer.
If you are ready to get your hands "dirty" a bit, we will share with you now how you can manually eliminate this threat. First, find the uninstaller in the installed programs list in Control Panel and activate it. Second, take care of the browser extensions in Mozilla Firefox and Google Chrome. In order to help you perform these, we have prepared a step-by-step guide below. But, if you want to clean your PC of all possible threats, we suggest that you install a reliable antimalware program.
DownloadHunter Removal from Windows
Windows 8/Windows 8.1/Windows 10
Press Win+X and go to Programs and Features.
Click on the application and click Uninstall.
Windows Vista/Windows 7
Access the Start menu and open Control Panel.
Select Uninstall a program.
Click on the application and click Uninstall.
Windows XP
Click the Start button and go to Control Panel.
Open Add or Remove Programs.
Click on the application and click Remove.
DownloadHunter Removal from Browsers
Mozilla Firefox
Press Alt+T and go to Add-ons.
Select Extensions on the left.
Click on the extension and press Remove.
Google Chrome
Press Alt+F and go to More Tools.
Select Extensions on the left.
Click on the extension and click on the trash can.
Press Remove.
In non-techie terms:
DownloadHunter is a worthless application that is, in reality, an adware program. This adware may present potentially questionable third-party ads to you, which may lead to malicious websites. But that is not the only threat regarding this application. Unfortunately, it may arrive together with other malware infections. Therefore, it is important that you remove DownloadHunter and all the other related infections as well. We recommend using a reliable malware removal application that will tackle all your security issues and protect your system as well.