Do you know what DownloadBoss is?
DownloadBoss is promoted as a download manager for Google Chrome, but our researchers have deemed it a potentially unwanted program due to several reasons that will be discussed in this article. Given that this program is undesirable, we recommend that you remove it. In a nutshell this program's only objective is to promote a certain search engine. Apart from that, it is a totally worthless piece of software. We want to warn you that its featured search engine may be unreliable as it can present modified search results and advertisements. DownloadBoss is a low risk application, so whether you think you want to delete it or not is completely up to you.
Since this program is not considered malicious it easily passed Google's security check and now it can be downloaded from Google's Chrome Web Store. This program is also advertised on Getdownloadboss.com, but its download button redirects to the same web store. DownloadBoss's publisher's name is Speed-ez-win.com. Yes, it is a website address, but its page does not load when trying to enter it. Therefore, it seems that something is not right about this program, but further investigation regarding its origins leads to a dead end. So let us move on to how this browser extension works.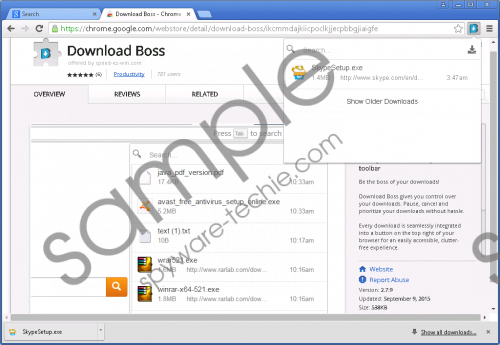 DownloadBoss screenshot
Scroll down for full removal instructions
According to DownloadBoss's website, it gives you control over your downloads. You can pause, cancel, and prioritize your downloads without hassle. The only problem is that this revolutionary technology was part of Google Chrome since the very beginning. Basically, this program has nothing useful to offer in terms of download management. The only good thing about it is that it provides easy access to your downloads' list on the top-right on the browser like Mozilla Firefox does.
As an additional benefit, this program's developers offer you enhanced searching capabilities with their featured search engine. However, we are not too keen about this search engine. Upon installation DownloadBoss will automatically change Chrome's new tab page to Searchnewtab.com. We our researchers think that this search engine is unreliable because according to its Privacy Policy "When you purchase, download trial or evaluation versions, or register for any software products and/or services made available through the Site, and/or Extension, we may collect personal information that you submit including without limitation your name, address, electronic mail (email) address, phone number, and credit card information." Besides this it can also collect information such as "domain names, IP addresses and type of browsers that you may use, URLs you have visited, referring URLs, and other, non-personally identifiable information."
Apart from collecting information, this search engine may contain third-party links and various promotions and offers, which can be annoying and unreliable. But here is the twist — DownloadBoss and Searchnewtab.com share the same privacy policy document. So they appear as separate products but are actually operated by the same entity.
All things considered, Download Boss and Searchnewtab.com are of little use. Download Boss is particular is nothing more than an unnecessary accessory that has no practical value. Searchnewtab.com is a functional search engine, but it collects information about you and may subject you to unreliable content via its search results. Given the fact that its developer is unknown, we suggest that you remove DownloadBoss.
Remove Download Boss from Google Chrome
Open the browser and simultaneously press Alt+F.
Select More tools and click Extensions.
Find Download Boss among other extensions and click Remove.
In non-techie terms:
DownloadBoss is an extension for Google Chrome that is promoted as a download manager. However, this extension is next to useless as it does not have anything useful to offer. Furthermore, it features an unreliable search engine that replaces the new tab page. This search engine may present promotional links and is bound to gather information about you, so you might want to remove this pair.