Do you know what Download Manager Star is?
Download Manager Star is an application which many people who tend to download programs from the web find useful. People come across the website of this application and then click the Download button because the application promises to boost the speed of their downloads considerably. In other words, people think that they will be able to download files from the web quicker than ever. Actually, the program really acts as a download manager; however, we cannot measure whether it works quicker if compared to other similar programs. It has been also found that it might perform other suspicious activities behind your back. Therefore, Download Manager Star is considered to be a potentially unwanted program by many researchers. If you have not found this program useful too, get rid of it from your system.
We do not think that Download Manager Star can be trusted fully because this program will set itself as your default download manager without your permission. It means that it will take over all of your downloads initiated after, for example, clicking on some kind of link on any website. The team of specialists working at spyware-techie.com has also found out that Download Manager Star will start the moment your Windows loads up. It means that there is a possibility that this program will perform activities behind your back. As you can see, Download Manager Star is not the most reliable program. Of course, we cannot say that it does not work as it promises to, so you are the one who can decide what to do with this AZTEC MEDIA INC. product. If you decide to get rid of it and install another download manager instead, continue reading the article as we are going to tell you how you can eliminate it.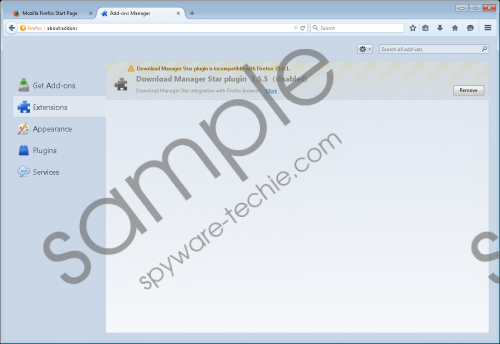 Download Manager Star screenshot
Scroll down for full removal instructions
It is possible to download Download Manager Star from its official website downloadmanagerstar.com. People usually find out about this program when they notice some kind of advertisement. Of course, they might end up on its website accidentally too. Unfortunately, there are a number of people who cannot remember downloading Download Manager Star themselves too. If you are one of them, there is no doubt that Download Manager Star has managed to enter your system in a bundle with other programs. Unfortunately, not all the programs that travel with Download Manager Star in software bundles are trustworthy, so we suggest that you check your system's condition by scanning it with a diagnostic tool.
Download Manager Star itself can be removed via Control Panel rather easily. After you get rid of it, you will be able to use the program you prefer to manage your downloads. We hope that instructions which we have put below will help you to eliminate this program; however, if you still see its presence, scan your system with the automatic malware remover called SpyHunter.
Delete Download Manager Star
Windows XP
Click the Start button.
Click Control Panel and click Add or Remove Programs.
Select the program and click Remove.
Windows 7 and Vista
Open the Start menu.
Open Control Panel and click Uninstall a program.
Right-click on Download Manager Star and click Uninstall.
Windows 8/8.1/10
Launch RUN and enter Control Panel in the box. Click OK.
Click Uninstall a program.
Select the suspicious program and then click Uninstall.
In non-techie terms:
Download Manager Star is definitely not the only program which says that it is 100% reliable, but the truth is that it is not. If you do not want to install similar applications in the future once again, you have to acquire and install a security tool on your computer. As long as you keep it installed, unreliable programs and malware will not be able to enter your system.