Do you know what DownChecker is?
It is very important to keep all your programs and drivers up-to-date; so, DownChecker might sound like a good choice of an application that can automatically do that for you. The only fly in the ointment is that this program has proved to be somewhat unreliable. The issues that arise from its presence on your computer might put your virtual security at risk. That is why our malware researchers have categorized it as a potentially unwanted program (PUP). Understanding what might happen on your computer in connection with this PUP can save you from some headache, and possibly help keep your system safe, too. Considering all the issues we will detail in the rest of the article, removing DownChecker seems to be the best solution, if you want to make a step towards keeping your PC secure.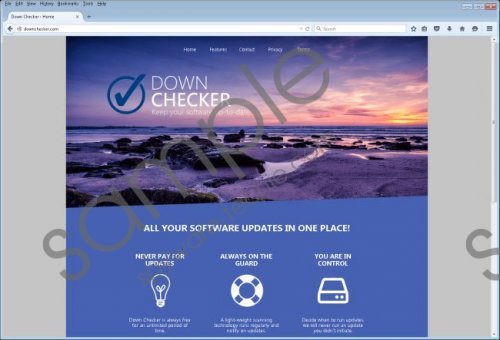 DownChecker screenshot
Scroll down for full removal instructions
It is possible that you do not even remember downloading DownChecker. The first red flag about this application is that, actually, it is not available for download from its own website, downchecker.com. So, the question remains: How on earth can this PUP emerge on your computer? Experienced users may already know the answer to this "mystery." As a matter of fact, this app is mainly spread in free software bundles. This would not be a problem in itself. But when genuine freeware is packed with malicious software in the same bundle, it can definitely lower your system's security once installed. This is, by the way, the most common way for people to get their computers infected. And that is why we advise you to delete DownChecker and make sure that you address every other related infection that may be hiding on your hard drive.
DownChecker claims to be a program that runs in the background and keeps checking for updates for all the software on your machine. It notifies you whenever an update is available and you can decide whether you want to download and install it or not. However, this PUP performs some other operations as well, which might, actually, hold risks for you and your system. This application can display third-party advertisements in order to support the creators. But, of course, the related websites and contents are not warranted to be reliable or safe. Not to mention that this PUP can also gather data about you and send customized ads to your screen in order to make sure that you will click on them. Ending up on potentially infected websites could result in serious damage to the health and security of your operating system. That is why we do not recommend keeping DownChecker on your computer any longer.
If you have already uninstalled programs via Control Panel, you will have no problem removing DownChecker. This PUP has an uninstaller, which really makes it a very simple task to do. But, even if you have never uninstalled software, you can easily do it manually by following the steps described below. If you want to be thorough and certain that there is no more threat left, you should run a reliable online malware scanner. If the system scan returns unfavorable results, it may be the right time for you to install a reliable antimalware program to deal with all your security issues and keep your PC protected.
DownChecker Removal from Windows
Windows XP
Click the Start button.
Access Control Panel.
Select Add or Remove Programs.
Remove the unwanted program.
Windows 7 and Windows Vista
Click on the Windows button on the Taskbar.
Select Control Panel.
Select Uninstall a program.
Uninstall the undesirable program.
Windows 8 and Windows 8.1
Press Win+W and type in control panel. Press Enter.
Select Uninstall a program.
Right-click on the unwanted application and select Uninstall.
In non-techie terms:
DownChecker is a so-called potentially unwanted program. It is called so because it is not malware; however, this application has shown traits that might introduce your system to potential harms or infections. This PUP may also enter your computer in the company of other, more serious, infections. In order to restore your system's previous state of health, you are advised to apply reliable malware removal software, which will automatically eliminate all your problems and safeguard your computer.