Do you know what dnsbasic.com is?
Dnsbasic.com is a fraudulent search engine which displays various links to advertising websites instead of relevant search results. The search engine can become your search provider, home page, and the web page of new tabs. The settings of your browsers are changed if you install an application whose installer contains the application promoting dnsbasic.com, which means that you should always pay attention to the information provided in the installation wizards; otherwise, your Internet Explorer, Google Chrome, and Mozilla Firefox will get affected by this unwanted search engine. Once you find that you cannot use your search engine as you are always redirected to dnsbasic.com, implement a spyware removal tool to delete dnsbasic.com from the PC.
Note that not all the links, which area presented as sponsored, are reliable. In case the search engine is employed by cyber criminals, you might arrive at corrupted and insecure websites. For example, you may click a link which leads to an infected website which spreads malware. You may also find offers to install some free application in order to scan or boost the performance of the PC. Moreover, the links may lead to other search engines which are expected to help you find the websites you are looking for. Remove dnsbasic.com from your browsers, as you may face the consequences of the browsing of the Internet.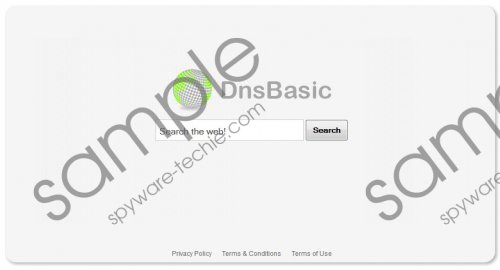 Dnsbasic.com screenshot
Scroll down for full removal instructions
In order to remove dnsbasic.com, implement the spyware removal tool SpyHunter which will delete the application that has caused the changes of the browsers. What is more, it will safeguard the PC against computer infections and potential unwanted programs (PUP). You will be informed about the attempts to install a PUP, which allows you to choose what programs you want to have installed.
Nevertheless, you can also try removing dnsbasic.com by following our step-by-step removal instructions provided below. In case you have any questions, do not hesitate to leave a comment in the comment box.
Dnsbasic.com removal
Windows Vista and Windows 7
Click Start - > Control Panel.
Click Uninstall a program.
Double-click the unwanted application to uninstall it.
Windows XP
Click Start and then click Control Panel.
Click Add or Remove Programs.
Select the unwanted program and click the Remove button.
Windows 8
Hover the mouse over the lower left corner of the screen.
Right-click.
Click Control Panel - > Uninstall a program.
Double-click the unwanted program.
How to remove dnsbasi.com from the browsers
Internet Explorer
Press Alt+T.
Click Internet Options.
On the Advanced tab, click Reset.
Select the check box.
Click Reset - > Close.
Mozilla Firefox
Press Alt+H.
Click Troubleshooting Information.
Click Reset Firefox -> Reset Firefox - > Reset Firefox.
Google Chrome
Press Alt+F.
Go to Tools - > Extensions.
Remove the unwanted add-on.
Click Settings.
Find the heading On startup and select one of the options given.
Click Set pages and change the startup page.
Move down to the Search section and click Manage search engines and change the search provider.
In non-techie terms:
Dnsbasic.com is a search engine which can be promoted by a browser add-on. As it can change the settings of the browsers, computer users regard it is a browser hijacker, especially when they think that the changes have been made without their approval. If your search provider has been changed to dnsbasic.com, remove it from the PC right now.
Aliases: Dnsbasic.