Do you know what DNS Unlocker is?
The supposed functions for which DNS Unlocker is advertised are nothing more than a facade, because it is just another adware application that you should remove once you anti-malware scanner has detected it, but if you do not have such a scanner, we suggest that you get one, because it amount of malicious applications that pass on as legitimate is increasing by the day. Cyber security is of utmost importance is this day and age, and you should not take the claims made by the developers of DNS Unlocker at face value, since it is said that the program protects your privacy.
As mentioned, DNS Unlocker displays commercial advertisements, but it is not that apparent, because the program is based on the CloudGuard/CloudScout, which shows ads that are marked with the label "Ads by CloudScou" and "Ads by FlashMall." The ads are presented mostly as coupons, pop-ups, and banners. Also, if the user hovers the mouse over a word for a brief period of time, an ad should also appear. This is very annoying. Obviously, the promoted content is not supplied by the developers of this application, whom you cannot identify, but by unreliable third parties. Some ads promote links to Amazon.com, but it would be laughable to think that Amazon would enter into a business agreement with small-time advertisers.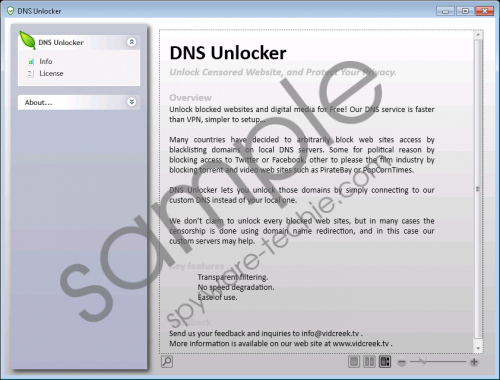 DNS Unlocker screenshot
Scroll down for full removal instructions
It is claimed that DNS Unlocker will protect the user's privacy from the companies that provide their Internet connection, since the providers use DNS technologies to track the user's activities. Ironically, the application will infringe your privacy right by collecting personal and non-personal information about you. If you register on the websiteVidcreek.tv you may voluntarily provide personal information, such as an email address. Non-personal information such as, IP addresses, favorable languages browsing history, and so on is shared with third parties. These entities are likely those that provide the commercial advertisements, so they need as much information as possible to make their ads more attractive. You can remove DNS Unlocker via the Control Panel, but it will leave malicious junk files. In addition to that the ads will be continuously shown, so you will need an anti-malware scanner to fully clean your computer.
The developers use a deceptive marketing tactic called bundling to distribute DNS Unlocker across the world. To our knowledge, the application is not bundles with legitimate applications, but with potentially unwanted programs and really malicious programs such as other adware. These kinds of bundles can be found on various freeware distributing websites. So you should gather more information about the website that you prefer to download software beforehand.
We hope that the provided information was sufficient and you are now ready to remove DNS Unlocker from your computer. We recommend using another program that does not contain third-party advertisements and does not collect information about you. As mentioned, you can remove the application manually, but you will still need an anti-malware scanner to get rid of the junks files that get left in hidden folders and registry.
Remove DNS Unlocker manually
Windows XP
Open the Start menu and click Control Panel.
Go to Add or Remove Programs.
Find DNS Unlocker and click Remove.
Windows Vista and Windows 7
Open the Start menu and click Control Panel.
Go to Uninstall a program.
Find DNS Unlocker, right-click it, and click Uninstall.
Windows 8 and Windows 8.1
Open the Charm bar and click Search.
Type Control Panel and enter it once it is found.
Click Uninstall a program.
Find DNS Unlocker, right-click it, and click Uninstall.
In non-techie terms:
DNS Unlocker is an adware application that claims to be able to unblock the website that has been blocked by the Internet provider. But in reality the program collects information about the users and displays third-party ads that are both irritating and unreliable. In an addition to that, the application leaves junk files after removing it via the Control Panel, so you should get an anti-malware scanner to clean it all up. We recommend using SpyHunter, one of the few high-end antimalware-scanners that can deal with minor and serious threats.