Do you know what DLSecure Toolbar is?
You probably have at least a slight idea what this program is if you are reading this article. You must have opened our website looking for ways to remove DLSecure Toolbar from your computer. Congratulations, you have found the right page. In this description, we talk about what this application is, what it does, what the implications of having DLSecure Toolbar on your PC are, and how you are supposed to get rid of it. If you get any questions after reading this article, please do not hesitate to leave us a comment in the box below.
Now, what exactly are we dealing with here? DLSecure Toolbar is a browser extension compatible with Google Chrome, Mozilla Firefox, and Internet Explorer. Although the application works on Windows 10, it does not seem to affect the Edge browser yet. When the toolbar gets installed on your PC, it adds an extension to all of your browsers. What's more, if you install the full version of this application, you will also have your default homepage changed to mystart.com. Your default search engine will be modified to Yahoo! Search, although we would like to point out that the Yahoo! Search used by DLSecure Toolbar is customized, and the search results provided are not entirely reliable.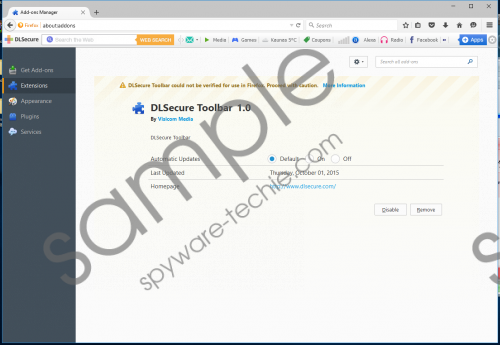 DLSecure Toolbar screenshot
Scroll down for full removal instructions
We think that some users may consider this application a browser hijacker seeing how to changes the target browser's settings. However, this modification is not carried out without your permission. You can choose whether you want to change your homepage or not right before you proceed with the DLSecure Toolbar's installation. If you fail to notice the two lines at the bottom of the installation wizard, then perhaps you should be less hasty when you install new freeware.
In some cases, you would be right to say that you do not know how this toolbar entered your system, especially if you do not even remember downloading it from dlsecure.com. This happens to be the homepage of this application, and the download button on the site works just fine. Nevertheless, it is very common that this application gets distributed in software packages with programs you neither need nor want. Well, perhaps you intended to download only one freeware app from this file hosting website, but you had no idea it would bring an entire bunch of other programs. And you certainly did not expect DLSecure Toolbar to be one of them.
Potentially unwanted programs and unnecessary browser extensions should not be tolerated as these programs could be easily exploited by cyber criminals. You will do yourself a favor if you remove DLSecure Toolbar from your PC right now, deleting all the other unwanted programs at the same time.
The manual removal guide below should work just fine for DLSecure Toolbar, but if you think you cannot locate or delete other potential threats on your own, you should acquire a licensed antispyware application. It is not just about this current problem at hand. You have to think of all the other potential security issues you might experience in the future. It will be a lot easier to deal with them all if you get yourself a reliable antispyware program.
How to Remove DLSecure Toolbar
Windows 10, Windows 8.1 & Windows 8
Press the Windows key + R and the Run command prompt will open.
Type "control panel" and press Enter.
Open Uninstall a program and remove DLSecure Toolbar.
Windows Vista & Windows 7
Open the Start menu and click Control Panel.
Select Uninstall a program and remove DLSecure Toolbar.
Windows XP
Click the Start menu button and open Control Panel.
Double-click Add or remove programs and uninstall DLSecure Toolbar.
In non-techie terms:
DLSecure Toolbar may look like a toolbar that can enhance your browser's performance, but after our research we have found it is not that safe to use after all. You should uninstall DLSecure Toolbar at once, and then search for other unwanted applications that might have arrived at your PC along with this toolbar. Do not wait when you need to act fast in order to protect your computer from dangerous threats. Also, should you need any further assistance with software removal, please contact us.