Do you know what DizzyDing is?
DizzyDing is an adware application from SuperWeb family. It means that this program enters your system bundled with freeware, and then displays a lot of commercial advertisements in order to help its creators make financial profit. Although this application is not extremely dangerous, no user should keep adware app on his or her computer. As a result, you are strongly recommended to remove DizzyDing from the system if you want to avoid any potential computer security issues. Do not forget that these programs seldom travel alone so you might have more than one adware app currently on your PC.
Technically, DizzyDing is identical to Loffinam, Gearscroll, ResultsBay and many other similar applications from the same family. All of them have similar homepage layouts, and their homepages are nothing but empty shells. For example, if you were to visit DizzyDing's homepage at dizzyding.info, you would find out that the direct download link does not work there. Clicking the download button only opens a new blank tab. Thus, our research team suggests, that DizzyDing always comes bundles with third-party installers and downloaders. It also means that users are the ones who install this potentially unwanted application onto their systems.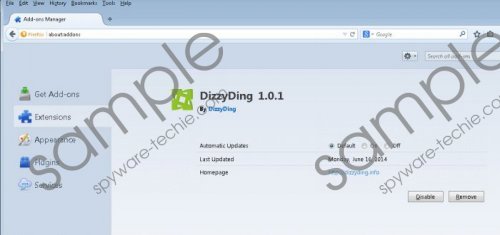 DizzyDing screenshot
Scroll down for full removal instructions
After the installation, DizzyDing adds extensions to Internet Explorer and Mozilla Firefox web browsers. Based on the information at the official homepage, it should work on Google Chrome as well, but during our tests the application did not affect the browser. However, if you are using Internet Explorer or Mozilla Firefox, you will soon notice an onslaught of commercial ads that display shopping suggestions on commercial websites (for example, eBay, Amazon, BestBuy, etc.). These commercial ads are not malicious by themselves, but it is very common that adware apps do not review the third-party content that they embed into their ads.
Hence, if you are not careful enough, DizzyDing may inadvertently expose you to potentially unsafe websites. You could be exposed to online marketing schemes or even malware distribution networks. Needless to say, that malware infection is a very extreme consequence of having an adware app on your PC, but you should consider all the possibilities.
The best way to avoid any potential threats is to remove DizzyDing from your computer right now. You can uninstall the application via Control Panel, but keep in mind that you will have to disable the add-on on Mozilla Firefox manually. What is more, you should scan your PC with SpyHunter free scanner in search for other unwanted applications because you are bound to have some. Do not hesitate to invest in a legitimate antispyware tool if need be.
How to uninstall DizzyDing
Windows 8
Move mouse cursor to the bottom right of your screen.
Click Settings on Charm bar and go to Control Panel.
Select Uninstall a program and remove DizzyDing.
Windows Vista & Windows 7
Open Start menu and select Control Panel.
Go to Uninstall a program and remove DizzyDing.
Windows XP
Click Start menu button and go to Settings.
Open Control panel and select Add or remove programs.
Uninstall DizzyDing.
Remove DizzyDing from Mozilla Firefox
Press Ctrl+Shift+A and Add-ons manager tab will open.
Disable and remove DizzyDing from Extensions.
Restart browser.
If you want to make sure that your computer system is absolutely adware-free, refer to the secondary set of unwanted software removal instructions below this description.
In non-techie terms:
DizzyDing is a potentially unwanted application that displays a lot of annoying commercial ads. Users have to remove this program from their computers because in the long run it could expose them to potential computer security threats.