Do you know what Disturbicons is?
Disturbicons is an ad-supported program that was created by Big Water Applications, LLC. The Spyware-Techie.com research team is familiar with this company because we have recently analyzed another suspicious app created by it, called Sexy Tube Mode. Even though these programs promote different services, both of them seem to have been created for the same reason: online advertising. If you do not remove these programs from your operating system, they are likely to start injecting ads into the sites you visit. According to our research, these ads might be selected according to your browsing history, and they could promote irresistible offers. Although we cannot say if all ads shown to you will be unreliable, we suggest deleting Disturbicons right away to evade the ones that might be unreliable.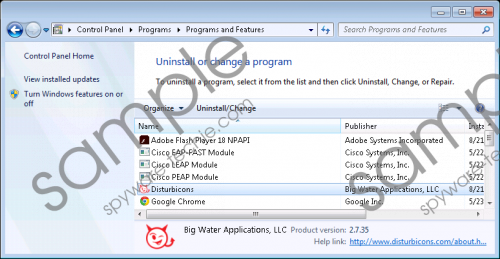 Disturbicons screenshot
Scroll down for full removal instructions
Disturbicons.exe and DisturbiconsService.exe are the services that are likely to control ad-injection, but these processes cannot appear out of nowhere. We have found that there are two main ways for these processes to start on your operating system. Some users will activate these processes after downloading software from disturbicons.com/index.html, and others will activate them by executing a software bundle. Although you can download Disturbicons as a standalone application, it is known that it can come bundled with malicious programs as well. Needless to say, if malicious programs enter your operating system, you need to delete them as soon as possible. It is also important that you consider the removal of Disturbicons. This program does not look malicious, but you have to treat it as a potential threat because it can show ads created by unreliable parties as well. In the worst case scenario, misleading ads could be used for the theft of your virtual identity or to trick you into installing programs that will require removal.
If you decide that the risks associated with Disturbicons are not worth the services it provides, you should remove it from your operating system without further delay. Even if this program provides you with funny emoticons, it is possible that you will encounter significant security problems if you do not get rid of this adware right away. The instructions below show how to manually delete Disturbicons from your Windows operating system. We believe that every user should know how to remove undesirable programs manually, but it is also important to know when to leave the task to automated malware detection and removal software. Although we are sure that all users can remove Disturbicons manually, we suggest installing a malware remover to ensure that all other threats are eliminated simultaneously.
Delete Disturbicons from Windows
Delete from Windows 8.1/Windows 8
Access the Charm bar in Metro UI and click the Search icon.
Enter Control Panel, click OK, and move to Uninstall a program.
Right-click the program you wish to remove and select Uninstall.
Delete from Windows 7/Windows Vista
Click the Windows logo on the Taskbar to open the Start menu.
Open the Control Panel menu and go to Uninstall a program.
Right-click the program you wish to remove and click Uninstall.
Delete from Windows XP
Click the Start menu icon on the left of the Taskbar.
Open Control Panel and double-click Add or Remove Programs.
Go to Change or Remove Programs and Remove Disturbicons.
In non-techie terms:
At first, Disturbicons looks like a trustworthy and beneficial program that can provide you with funny emoticons; however, this ad-supported program is known to showcase suspicious ads, which is why we recommend removing it from your operating system. The manual removal guide in this report shows how to remove Disturbicons, but we cannot guarantee that it will help you eliminate other unreliable programs that you could have downloaded along with this adware. If you cannot delete these programs yourself manually, we strongly advise using a legitimate and reliable malware remover to eliminate them automatically.