Do you know what DiskPower is?
We want to inform you that DiskPower is not a useful application it pretends to be because its primary objective is web monetization. So you can remove it without hesitation because it does not perform anything useful and it is prone to subject you with commercial advertisements while you browse the web. Its proclaimed ability to find and delete duplicate files leaves much to be desired, and chances are that it will accidentally erase the wrong files. Therefore, we have classified it as a potentially unwanted program (PUP), and we invite you to read this whole article if you have it on your PC.
According to the privacy policy found at Diskpower.biz, DiskPower's main website, the company responsible for publishing it is called SecuriDEX LLC that is also referred to as WeMonetize. This company is also responsible for releasing a program called SecuriDex that we have also classified as a potentially unwanted program. We said that this company would release more shady applications and, lo and behold, DiskPower has arrived. WeMonetize or SecuriDEX LLC as it is also known is in the web monetization business, so its software is bound to promote third-party content via passive, non-aggressive advertising tactics. However, you can mistake its promotions for content recommendations on legitimate websites, so we do not recommend using it, especially since this company can do business with various shady and dishonest entities. In any case, we think that it is plain to see that this application comes from a shady background, so let us take a closer look at its features.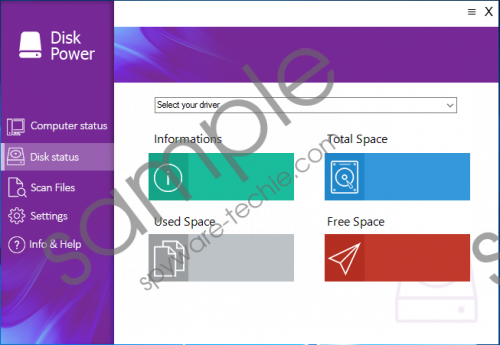 DiskPower screenshot
Scroll down for full removal instructions
Even though this application has a dedicated website and features a download button for DiskPower it does not work, so you cannot get this program from that website. However, it is disseminated via bundled software that is featured on various free software hosting website. Therefore, you might get it accidentally if you do not deselect additional software that freeware software tends to feature. Furthermore, we have received unconfirmed reports that it might be dropped by malicious applications.
To make DiskPower look as if it is a useful tool, the developers have added irrelevant features such as showing your computer's processor's name, how much memory it has, what operating system it has, and so on. The Disk Status function, again, provides you with features that are already in Windows. This tab allows you to see your computer's hard drive's total space, how much space has been used and how much space is free. The settings tab lets you tamper with scanning settings such as excluding files that exceed a size limit, temporary files, system and program files, and so on.
Our researchers are of the opinion that this application is primitive because it seems that it find duplicate files by comparing their names and file size, so if you happen to have two files that share the same name and are identical in size, but differ in contents, then this application will delete one of them which is not something you want. So this program can do more harm than good, so you should refrain from scanning your PC with it. This program is set to autostart with Windows, and you cannot disable the autostart feature. It seems that its developers are determined to keep it running on your computer at all times so that you could view its advertisements that you will be subjected to while you browse the web.
That is all of the information about this program that we have at the moment, but it is easy to see that it offers nothing of value and will not improve your computer's performance in any way or help you safe some storage space. Due to its primitive duplicate detection system, it can remove the wrong file. Finally, it can display commercial advertisements which are highly undesirable. So if you want to uninstall DiskPower, then follow the instructions below.
How to uninstall this application
Windows 10
Hold down Windows+X keys and open Programs and Features.
Find the program and double-click it.
Click Uninstall.
Windows 8 and Windows 8.1
Right-click the Start screen and select Control Panel.
Go to Uninstall a program.
Find the program and uninstall it.
Windows 7/Vista
Open the Start menu and click Control Panel.
Select Uninstall a program.
Find the software.
Click the Uninstall button.
Windows XP
Open the Start menu.
Click Control Panel.
Select Add or Remove Programs.
Find the application and click Uninstall.
In non-techie terms:
DiskPower is a potentially unwanted application because its primary features are a disappointment. This application can find duplicates but its finding are based on file name and its size, so it can find and remove the wrong file. Furthermore, it can subject you to commercial advertisements that come from unknown sources, so we recommend that you uninstall this application from your PC.