Do you know what DiscountLocator is?
Even though DiscountLocator is not available for newer Chrome versions, you can find it running on Mozilla Firefox and Internet Explorer browsers as well. Many believe the program to enter their PCs illegally because it may be installed by default when installing bundled software. Even if you did consent the installation of the extensions, you still should delete DiscountLocator Ads if they have started flooding. Do you think there is nothing wrong with these advertisements? Of course you may be right; however, within the avalanche of different pop-ups and banner ads you may find fictitious offers presented by completely unreliable parties. This is the main reason why the removal of the program is recommended to all of its users.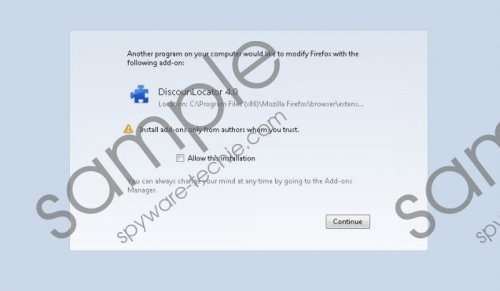 DiscountLocator Ads screenshot
Scroll down for full removal instructions
The official web page of DiscountLocator is discountlocator.info; however, this website is useful only if you want to check the Privacy Policy. Keep in mind that this document is extremely important and should be reviewed. As you may have found out already, the document discloses that part of the service is the representation of third-party links. Do you know where to look for these? The links are most likely to be hidden behind alluring advertisements; however, you may also face sponsored search results. Whichever the case, you should delete third-party advertisements and you certainly should not click on random links because you could end up on corrupted websites. Note that Takethecoupon, PriceKeaper, AllCheapPrice, and other applications distributed by DomaIQ and InstalleRex installers (used for the distribution of DiscountLocator as well) are equally as unreliable. We recommend that you refuse and remove all applications promoted with the assistance of these installers.
Are you not sure about the activity of DiscountLocator Ads? The advertisements may be presented by applications with extremely suspicious names, seemingly forming words but actually made up of random symbols. If you discover DISacountLaocatOOr on your browsers, you still need to remove DiscountLocator Ads because it is the same program. The application changes its name to avoid the removal; however, it should not fool you and up-to-date security software. Follow the manual removal instructions and then install a legitimate Windows security tool to have the remaining adware components deleted.
Delete DiscountLocator from the PC
Delete from Windows 8:
Access the Metro UI screen and right-click to open a pane at the bottom.
Select All apps, open the Control Panel and select Uninstall a program.
Right-click the application you wish to remove and select Uninstall.
Delete from Windows Vista and Windows 7:
Navigate to the Task Bar, open the Start menu and select Control Panel.
Go to Uninstall a program and right-click the application you wish to remove.
Select Uninstall.
Delete from Windows XP:
Navigate to the left of the Task Bar and click the Start button.
Open the Control Panel and double-click Add or Remove Programs.
Go to Change and Remove Programs and Remove the unwanted application.
In non-techie terms:
We are sure there is no need for further explanation why you should delete DiscountLocator Ads. These ads are unreliable and may be quite dangerous, which is why right now all you have to worry about is their removal. It is impossible to know whether the manual removal will be sufficient in all cases, and so automatic malware removal software should be trusted as well. Use the guides below if you need to.