Do you know what DirectionsOnline is?
DirectionsOnline is a browser extension that is supposed to help you get directions and provide you with information such as gas station locations. Its theme revolves around road navigation. However, our security specialists say that all of its features are a smoke screen because the true purpose of this program is to show you promoted links in the search results of its featured search engine. The search engine is enhanced by Google search, but its developers can customize it to feature additional links. As a result, you will not get the best, most relevant search results. Moreover, some of the ads can redirect you to potentially malicious websites. Therefore, we recommend that you remove this program, but before you do that, you might want to find out more about it in this article.
If you get this browser extension on your PC, then you should be warned that it will replace your browser's homepage address to http://hp.myway.com/directionsonline/ttab02chr/index.html?p2=%5ECIV%5Eyyyyyy%5ETTAB02%5Eus&n=78397875&st=tab&ptb=&si=&rd=alreadyInstalled&ruid=61023955-DAEB-419D-9DD7-2E6FB212909A, a custom search engine that features a toolbar with links on top of its main page. The featured links in the toolbar include the likes of https://wego.here.com/traffic?ct=hm_map and http://www.gasbuddy.com. The links featured on the toolbar are safe to click. However, the promoted links featured among the search results are supplied by third-parties, so they can promote rather shady content and even compromise your computer's security and your privacy. The links can redirect you to malware hosting sites that can get your PC infected with spyware, ransomware, and so on if you click anything suspicious.
We want to point out that Hp.myway.com has been designed to collect certain information about you and use it for advertising purposes. Researchers say that the information collected can include your browsing history, search queries, Internet Protocol (IP) address, Internet Service Provider (ISP) name, browser type, operating system type, and approximate location. It collects this information using browser cookies, web beacons, and other information collection technologies. All of this information is used to show you customized advertisements that are set to increase revenue for the developers and their partners.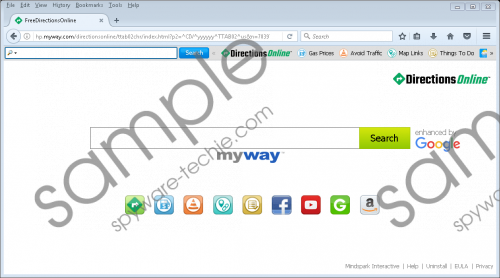 DirectionsOnline screenshot
Scroll down for full removal instructions
DirectionsOnline was published by Mindspark Interactive Network, a company responsible for releasing similar browser extensions such as NoteHomepage Toolbar, ProductManualsFinder Toolbar, CrunchTravel, OnlineMapFinder Toolbar, and many others. This company is in the online advertising and web monetization business, so all of its applications have something to do with promoting third-party websites.
As far as distribution methods are concerned, researchers say that DirectionsOnline is distributed via three channels. The first channel is its dedicated distribution website at http://www.freedirectionsonline.com/index.jhtml that features downloads for Google Chrome, Mozilla Firefox, and Microsoft Internet Explorer. The second channel is for Chrome only as this browser extension is featured on the Chrome Web Store. The third channel is freeware bundles. Mindspark often uses freeware bundles to distribute its software, and you can encounter such bundles mostly on lesser-known, shady freeware websites that often do not allow users to deselect unwanted additional content.
We hope you found this article insightful as it may appear that DirectionsOnline is an entirely legitimate application while in reality is a potentially unwanted program dedicated to replacing your browser's homepage address with a promoted search engine that features ads of unknown origin. We recommend that you remove this extension from your PC to avoid potentially unreliable content. Please see the guide below on how to do that.
Uninstall DirectionsOnline from Control Panel (IE only)
Windows XP
Click the Start menu button and select Control Panel.
Click Add or Remove Programs.
Find the program.
Right-click it and click Remove.
Windows Vista and Windows 7
Click the Start menu button.
Open Control Panel.
Go to Uninstall a program.
Find the application.
Right-click it and click the Uninstall button.
Windows 8/8.1/10
Press Windows+R keys.
Type Control Panel in the Run Command Prompt and click OK.
Click Uninstall a program.
Find the software.
Right-click it and click Uninstall.
Remove DirectionsOnline from the browser
Google Chrome
Press Alt+F.
Select More tools.
Click Extensions.
Find the extension.
Click the Remove button.
Mozilla Firefox
Press Ctrl+Shift+A.
Click Extensions.
Find the extension.
Click the Remove button.
In non-techie terms:
DirectionsOnline might look like a reliable and useful program, but the truth is that its functions are nothing but gimmicks set to distract you from the fact that it hijacks your browser's homepage address to subject you to commercial advertisements that come from unknown sources. Therefore, we invite you to consider removing this extension before it jeopardizes your computer's security.